Lacrosse flies past Fresno, crushes Campbell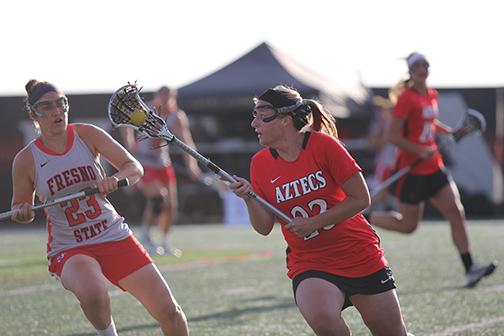 The San Diego State Aztecs lacrosse team (3-2, 2-0 Mountain Pacific Sports Federation) leaves the city of Fresno knowing that it dominated both teams it faced this weekend.
On Friday, the Aztecs proved too much for Campbell University, defeating the Camels 16-8.
They continued the hot streak against California University, Fresno, outmatching the Bulldogs 15-4 in the Sunday afternoon contest.
These two victories put the Aztec's current win streak at three games, beginning with their defeat of University of Oregon last weekend. What is even more noteworthy is that all three of these victories occurred away from San Diego.
Campbell University was overrun by the aggressive Aztecs. SDSU took 43 shots in the game, 29 of them coming in the first half. By halftime the game was virtually out of reach, with the Aztecs already leading 10-3.
Redshirt-junior midfielder Sophie Koubek had a big day against Campbell, scoring four goals. Three of those goals came in the first 25 minutes.
Campbell had a late surge, scoring three goals in the last six minutes. The late surge, however, would not be enough to overcome the early deficit for the Camels.
Campbell did not challenge the reigning MPSF Defensive Player of the Week and starting goalie of the Aztecs, sophomore Katrina Reeves. Reeves managed to make two saves while allowing four goals.
The bulk of her play came in the first half, when Campbell only took four shots. After the fourth goal, sophomore Katie Merrit — who made one save in 28 minutes of action — replaced her.
The Aztecs following contest against Fresno was more of the same.
They started strong, scoring three goals in the first four minutes of the contest. Fresno's opportunities came few and far between, registering only four goals on 16 shots.
The second half was even more dominant for the Aztecs. SDSU held Fresno scoreless until a goal by sophomore midfielder Caro Dineen-Carlson with 4:11 remaining ended an 8-0 SDSU run.
Sophomore midfielder Alex Watson had a nice day, scoring four goals off the bench. They also received big contributions from senior Michaela Jarvis, who had three assists and one goal on the day.
These two dominant victories have done more than just enhance the team's overall record, though.
"We're feeling good about getting back to what San Diego State lacrosse is about," head coach Kylee White said. "Our performance has inspired us to get our confidence back up."
They return home sitting at the top of the MPSF standings with a 2-0 record, but have tough conference games coming up against University of California, Berkeley and St. Mary's College in the next two weeks.
But before they face off against the Bears or Gaels, the Aztecs meet Liberty University in their home opener. The match will take place this Friday, March 13 at 7 p.m.