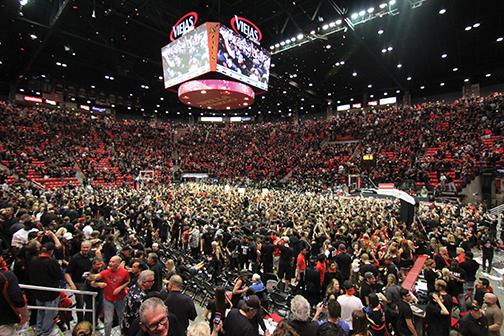 San Diego State made it loud and clear following the Aztecs' 67-43 victory against University of Nevada, Reno that it supports college student celebration and spontaneity.
As the clock wound down, students started systematically filing down stairs and lining up behind a rope. Students then waited an additional 58 seconds until they were allowed to spiritlessly jog onto the court.
The decades-long debate of whether court storming is appropriate was reignited after the Kansas State University Wildcats beat the University of Kansas Jayhawks in consecutive home games for the first time in 32 years on Feb. 23.
As time expired following the Kansas State 70-63 victory, spirited Wildcat fans poured onto the court in a beautiful display of long-suffering turned to celebration. During the initial rush, a snot-nosed Wildcat fan decided it would be cool to run into Jayhawk junior forward Jamari Traylor.
After the game, Kansas head coach Bill Self spoke against court storming and then discussed the danger it brings to players. In reality, Self was a coach who was embarrassed and acted like a sore loser.
Sorry, coach, but it's absolutely not wrong to storm the court.
It's important to understand that fans are an extension of what's happening on the court. Look at the passion in student sections across the country. These students yell at the opposition, sing synchronized chants, wave cutouts of huge faces and at Arizona State University the students even twerk.
Players on the floor are sweating and making sure they give no less than 110 percent to ensure a victory, so fans mirror that. For 40 minutes plus overtime, fans have a responsibility to become emotionally invested in the game and cheer their collective faces off.
With each made play the energy grows again and again. After the buzzer sounds, fans have the right — birthright — to be proud and get crazy.
After all, when students pour that much into a game they feel as if they just willed their team to victory, and that feeling is too damn good to not be celebrated on the floor.
When rushing the court is done right, students don't make a conscious decision to break the rules. It comes as a spontaneous eruption of raw emotion that has reached its limits in the stands, and has no other choice but to take the path of least resistance and flow onto the floor.
This is a heat-of-the-moment, I-poured-my-heart-and-soul-into-this, my-wildest-dream-came-true, I-am-a-part-of-this and a-brick-wall-can't-hold-me type of situation.
On the floor, students enter into a beautiful communion with fellow fans and players. There is no other venue on this planet where fans get to directly celebrate with this level of athlete.
These students have also made a four-year commitment to their university, which breeds immeasurable school spirit. No one should legislate how much pride a student can take in his or her school.
It would be unimaginable to see a game without the possibility of students taking to the floor. Court storming has become associated with iconic wins, proving that college sports aren't just about the athlete, but also the fan.
Attempting to take away or tame the concept of storming is an absolute crime. It's an assault on sports fans, and those that disagree likely have never participated in court storming, been a diehard fan of any team or are afraid to maintain tradition.
Don't let a policy-making, no-fun hack neuter your game.