Behind the award: Trimaine Davis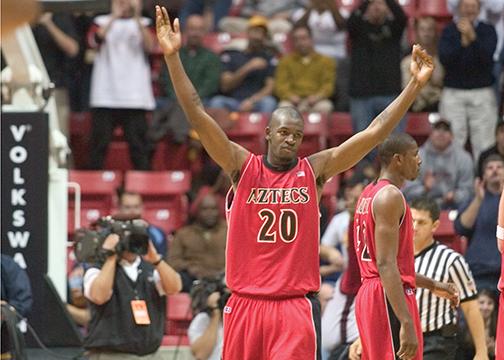 The San Diego State men's basketball record books can take you back as far as 1922. Tony Gwynn paced the parquetry from 1977-81, and Michael Cage followed from 1980-84. Former head coach Smokey Gains led SDSU to a Western Athletic Conference title in 1985, but the next 15 years were marred by subpar basketball that included a 2-26 squad in 1992 that finished 0-16 in conference play.
Head coach Steve Fisher, winner of the 1989 National Championship, set up shop in America's Finest City in 1999 and led his Aztecs to a Mountain West Tournament title in 2002, despite a 7-7 conference record.
The brief history lesson doesn't come without purpose. It serves as a road map leading to the onset of the career of one of SDSU's most influential, inspiring and least celebrated players ever, Trimaine Davis.
The name won't sound familiar, and a browse through the record books won't ring any bells. Davis' story is one of grit, grief and misfortune ill enough to break most human souls, but it's also one of perseverance, pride and human good.
Born to drug-addicted parents before being legally adopted and raised by his grandmother in the small California town of West Pittsburg, Davis was defying the odds before he ever picked up a basketball.
His grandfather stopped attending school in the fifth grade, his grandmother stopped in the sixth grade, and both of his parents, who passed away while he was in high school, never graduated either. Bigger than Davis' love for the blacktop was his desire to graduate high school and receive a college education, and in 2001 he became the first in his genealogy to do so.
Fisher first noticed Davis on the AAU circuit the summer before his senior year of high school. At the Adidas Big Time Tournament in Las Vegas, Davis battled future NBA players like Tyson Chandler and Channing Frye. SDSU was the first program to send him an offer.
"When coach Fish came to visit me and my grandmother and my uncle in my home, we hardly talked about basketball," Davis said. "We talked about life. We talked about what it would mean for my family if I graduated and became the first in my family to get a degree, and that's what I wanted. I wanted that more than anything else. Coach Fish, from day one, put together a plan in order for me to be successful. He sold me on the challenge of creating something magical at San Diego State — being a pioneer, being a pillar."
There was no doubt that Davis had the skill to compete at the next level. However, there were some doubts about his public school education and whether or not he was cut out for the college classroom. It took a sit-down interview with admissions officials on campus for Davis to clear his name.
"(The admissions office) didn't want to admit him," Fisher said. "They were going to turn him down. They looked at a piece of paper and we looked at the man. Now I think everyone is celebrating what he did when he came here, both with us and with his academics."
In the spring of 2001, after posting 20.5 points, 14.7 rebounds, and 5.4 blocks per game during his senior campaign, Davis committed to SDSU.
A handful of school days was all that stood between Davis and the actualization of his dreams. After all of his work balancing life and basketball while fighting to reverse the trends in his family's educational history, Davis was hit with yet another punch.
He was spending the day at a local reservoir with his classmates on Senior Ditch Day when his best friend and teammate, Gregory Ashford, died in a drowning accident just one week before graduation.
Davis and his teammates swore to Ashford's family that they would always keep his name alive, and one of the ways Davis did so as an Aztec was by wearing No. 20, Ashford's high school number.
As a redshirt during the 2001-02 season, Davis was described as the team's biggest cheerleader during its conference-title run. He watched the way former Aztecs like Randy Holcomb and Tony Bland led on the floor and in practice and he never passed on an opportunity to share his own opinion, even as a freshman and sophomore averaging less than seven minutes per game.
Leadership came as a natural strength for Davis, and it extended far beyond the locker room. As much as he was a motivator in Fisher's huddle, he was an agent for change on the SDSU campus.
Both as a child and later as an African studies major, Davis drew inspiration from athletes such as Muhammad Ali, Jim Brown, Tommie Smith and John Carlos because of the impact they had away from their respective playing fields. He understood that titles and Olympic medals had no substance in the grand scheme of life, and that he couldn't expect others to come together for change if he wasn't prepared to do so himself.
"I never wanted to be like Mike growing up," Davis said. "I didn't really care too much about Michael Jordan. My spirit in being active comes from my role models. Those guys all stood for something much bigger than their respective sports. So in my own unique way, I tried my best to mimic that. My philosophy is that whenever I have an observation, I have an obligation. My observation was that we needed to get more together as a unit and a community on campus. My obligation was to make sure that I played a part in making that happen."
Davis became heavily involved in on-campus life as a member of the Afrikan Student Union, Student African American Brotherhood and the Association of African Studies Majors and Minors, and became increasingly aware of the disconnect between the African American student body and his fellow African American student-athletes.
He preferred to wear his normal street clothes on campus rather than donning his team gear in efforts to blend in at 6-foot-7. It wasn't an attempt to deflect or evade attention. It was out of genuine concern that he might seem unapproachable to his fellow man in the quads and in the hallways.
During the fall of his junior season, Davis and his friend Michael Franklin, who was the starting running back on the football team at the time, attended a guest lecture series about leadership and involvement on campus. When the topic of student-athletes was brought up, audience members wasted no time offering their opinions on student-athlete lifestyle. One by one they stood up and shared their frustrations, labeling student-athletes and categorizing them with the typical stereotypes.
"We just waited for everyone to get done saying what they had to say," Davis said. " And then I stood up. I said, 'I'm a student-athlete, and I'm here.' The whole mood changed and in that moment a light bulb went off. We needed to make sure that we had something to let people know that we are a part of this institution as much as anyone else and that we cared about the issues that were going on."
Davis and Franklin saw their opportunity to change the on-campus culture, and took the first step by creating The Koalition in the spring of 2005, which was a student organization built to provide an open line of communication and a network of support between African-American students and student-athletes.
In exchange for the students' voice and energy in "The Show," Davis and other student-athletes across multiple sports vowed to be there when social issues arose on campus.
Throughout all of his extra efforts in the campus community, Davis benefited from unwavering support from his teammates and coaching staff. There was a dialogue between himself and the staff that fostered mutual support and respect. Davis could tell Fisher about an event and why he thought it was important for him to be there. Sometimes compromises were made, but when the situation called for Davis to be present with the team, he never questioned instruction.
After the Aztecs took a hard loss to the University of New Mexico in the 2005 MW Tournament championship game, the first thing Fisher did when he stepped in the locker room was name Davis the captain for the next year. Davis only averaged around five points and two rebounds per game as a junior, but his blue-collar approach and dedication earned him that title.
As captain in 2006, Davis helped lead the Aztecs to a conference tournament title and its first winning conference record in Fisher's tenure. His legacy at SDSU was cemented at season's end when Fisher presented him with the newly titled Trimaine Davis Leadership Award, which he describes as his third-greatest accomplishment behind graduating college and establishing the Gregory Ashford Memorial Scholarship at Pittsburg High School.
"It was appropriate because he's as good of a leader we've ever had walk through these doors in our 16 years here," Fisher said. "He led by example, he led by his commitment, he was tremendous in the locker room, and he's what you win with. He's what you win with in athletics and he's what you win with in life."
Everything came full circle when later that year Davis became the first student-athlete to win the Presidential Leadership Award presented by the SDSU Associated Students. Among those handing him the award were a few of the same people from the Admissions Office who doubted his academic potential five years prior.
Davis has returned to the Mesa every year since to present the award named after him to outstanding Aztec players. Brian Carlwell, a former Aztec and recipient of the award in 2011, invited Davis to walk out on the floor with him on his senior night.
"When you put on that that jersey, you are a family," Davis said. "We're connected forever. I'm not sure if it's that way at other institutions but I know for sure it's that way at San Diego State, and I'm so thankful to be a part of it."