Leadership center renamed The Jeffrey W. Glazer Center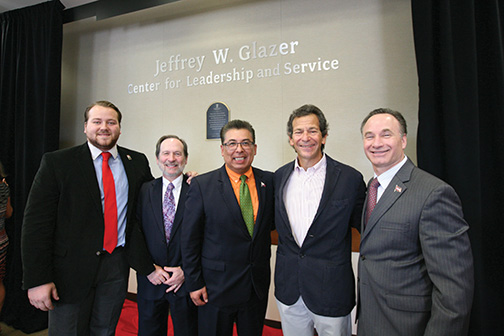 San Diego State's leadership center was recently renamed and will expand its services after receiving a donation from alumnus Jeffrey Glazer.
The funding from Glazer will go to promote several leadership programs offered through Student Life and Leadership, Assistant Director of Student Life and Leadership Robyn Adams said.
Adams said the programs include the one-day Leadership Summit, the Aztec Core Leadership Retreat, and the Aztec Unity Project, a community service project including various student organizations.
The leadership center, now named the Jeffrey W. Glazer Center for Leadership and Service, hosts classes and workshops, offers leadership consulting, and it is open for students to study and use its resources.
Randy Timm, director of Student Life and Leadership, said the center serves to connect students to leadership opportunities and reward them for their leadership.
Adams said a leadership advisory board led by Vice President for Student Affairs Eric Rivera has formed to discuss the goals of SDSU's leadership programs. Board members include Glazer and alumni corporate members.
Adams said the center would be adding desks for students to take online leadership assessments that, although normally expensive, will be free to students.
"It's really a place for all students to come no matter what level of leaders they are," she said. "We've had people who never did anything in high school to people who did everything in high school and we focus on how to coach all of the different levels for where people are at."
The center will also add new classifications to redefine service and encompass types of service beyond the community, Adams said.
"Through our service area we partner with a lot of non-profit organizations and we have offered the space to them to do information sessions during lunch time to provide good, safe opportunities to our students," she said.
The Glazer Center is located in the southwest corner on the second floor of the Conrad Prebys Aztec Student Union.
Glazer donated many of the books at the center upon his graduation from SDSU in 1981, Timm said.
"It's great that we are able to name the center after him because he's done so much over the years for the leadership center and the campus," he added.
As Glazer requested, the exact amount of his donation is not being disclosed, which is common with "gifts of a larger size," SDSU Communications Director Kimberly Lamke Calderon said.