Bulldogs beat Aztecs for series win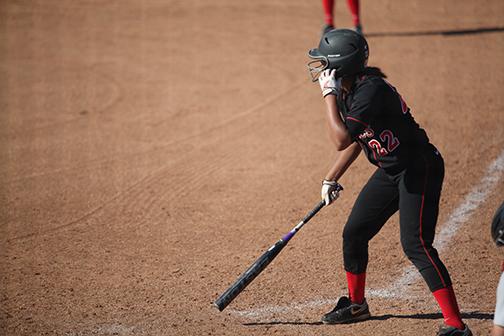 As students were soaking up the sun and enjoying their spring break away from the Mesa, the San Diego State softball team was roughed up by California State University, Fresno this last weekend in the SDSU softball stadium, dropping the series 2-1.
This series loss to the Bulldogs (25-13, 6-3 Mountain West) snapped the Aztecs' (24-14, 7-2 MW) five consecutive series wins over MW opposition dating back to last season. Fresno State abruptly ended SDSU's six-game winning streak and in doing so handed SDSU its first two conference losses of the season.
SDSU, despite these two losses, is still alone atop the conference a game ahead of San Jose State University, University of New Mexico and Fresno State.
The Bulldogs immediately made themselves at home in "America's Finest City" to open the series, dominating the Aztecs from the opening pitch and proved victorious, 5-0.
Fresno junior pitcher Jill Compton had SDSU on its heels for all seven innings, giving up only two hits and a walk along the way. Compton (15-9) out threw SDSU's sophomore pitcher Erica Romero (22-11), who allowed all five runs and 13 hits throughout her seven innings.
The Aztecs quickly fell behind as the Bulldogs tallied three runs in the first inning, and SDSU was never able to come back. Aztec sophomore first baseman Sydnee Cable and junior shortstop Samantha Camello were the only Aztecs to record a hit.
After being rocked on Thursday and throwing 121 pitches, Romero returned to the mound Friday with a chip on her shoulder and picked the Bulldogs lineup apart. In her second seven-inning outing in as many days, she allowed only three hits, no walks and struck out six in a shutout effort against Fresno.
Romero had a clean sheet against the first five of the Bulldogs order, who combined for an 0-for-15 line in the batter's box and only allowed one base runner to advance past first base in the Aztecs 3-0 victory.
SDSU's offense came to life in Friday's match accounting for eight hits and three runs, as they bullied Fresno junior pitcher Harris Hannah (7-3) through five innings.
The Aztecs matched their offensive output from Thursday's loss in a single inning, recording two hits and the first run of the series in the bottom of the first. Cable hit a one-out single through the left side and moved to second on a groundout by senior utility player Lorena Bauer. Freshman catcher Jenavee Peres then took the first pitch she saw down the left field line for an RBI double.
The series wrapped up Saturday as SDSU completely unraveled with Fresno's Compton returning to the mound and the Bulldogs lineup returning to form, as the Aztecs lost 8-1.
Compton, the MW leader in ERA, pacified the conference-leading Aztecs and held them to five hits, while she walked one and struck out two. Fresno State once again barraged Romero as she allowed eight hits, four runs and three walks in six innings.
Cable entered in relief, and the Bulldogs pounced on the starting first baseman, which in one inning threw 36 pitches and allowed four runs on five hits.
This loss matched their largest margin of defeat in MW play since University of Utah defeated the Aztecs 8-1 on May 11, 2002, in the MW tournament championship.
The Aztecs will continue play Tuesday, April 7, as they travel to Reno for a doubleheader as they take on the University of Nevada, Reno.