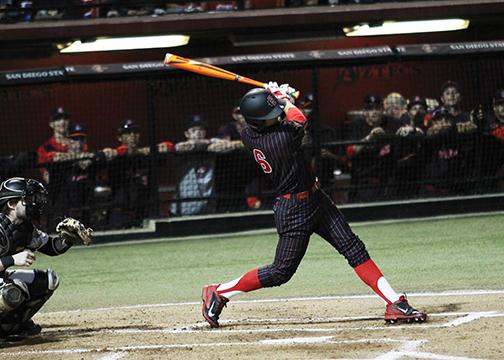 Sarah Smith, Staff Photographer
The San Diego State baseball team continued to roll last weekend, winning two out of three games against the University of New Mexico at Tony Gwynn Stadium.
The Aztecs dropped back-to-back games for the first time since they welcomed Texas Tech University back in early March when they lost 7-4 on Thursday night.
Junior right-hander Bubba Derby got knocked around by the Lobos to the tune of five runs (four earned) in 5.1 innings.
Trailing 5-0, junior third baseman Ty France blasted a solo home run, his second of the season, but it wasn't enough.
Derby's counterpart, junior right-hander Mark Seyler, was much more efficient when he started against the Lobos on Friday night. Seyler held New Mexico hitless for the first five innings of the game.
However, the Lobos tacked on three runs throughout the next two innings to take a 3-2 lead against the Aztecs.
The Aztecs would go on to manufacture a run to tie the game in the bottom of the eighth, and it would stay that way until junior catcher Seby Zavala drove in junior outfielder Spencer Thornton with a double in the 10th inning to win the game 4-3.
Sophomore left hander Brett Seeburger picked up his first win of the season after pitching a perfect 10th inning.
Saturday afternoon is when the Aztecs picked up against the Lobos.
Just like Seyler did on Friday, sophomore left-hander Marcus Reyes kept the Lobos scoreless for the first five innings of the game.
New Mexico would get on the board, though, in the sixth off an RBI single.
The Aztecs then tacked on two to take a one-run lead, Zavala continued to stay hot by hitting his team-leading sixth home run of the season, a solo shot.
They would hold a 4-1 lead going into the ninth and handed the ball off to the closer, sophomore right-hander C.J. Saylor.
The Lobos would load the bases on Saylor before he could record an out and the team elected to go with Seeburger to finish the game out.
Seeburger let in two runs, one by a fielder's choice and the other on an RBI single.
Junior right-hander Brian Heldman was then called upon, and he clinched the series win after forcing a fielder's choice giving the team a 4-3 win. It was Heldman's first save of the season.
The Aztecs are back this Tuesday when they welcome California State University, Long Beach at 6 p.m.
They beat the 49ers 16-1 when they played at Long Beach on March 10.