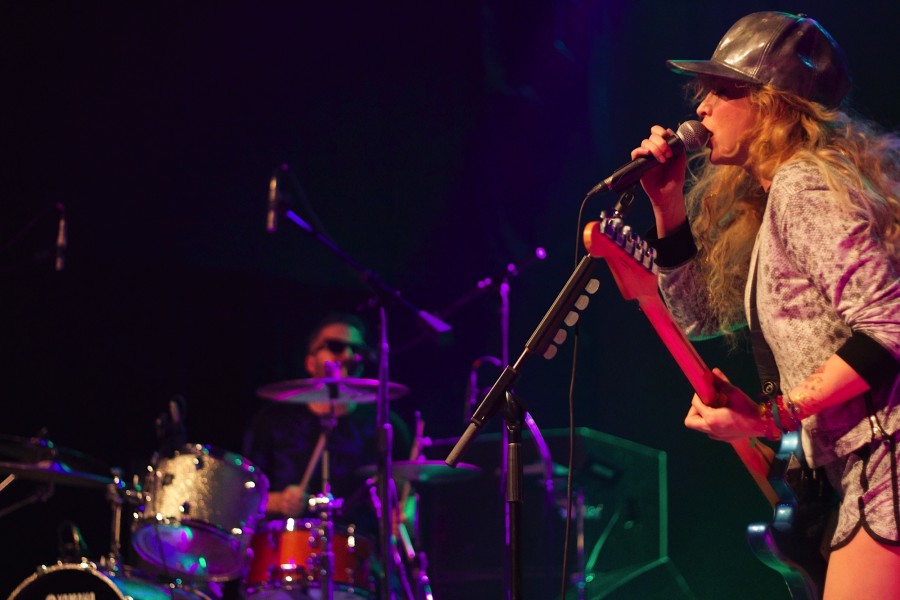 Lilly Glenister, senior staff writer
Walking up to The House of Blues on March 23 was like a trip back to seventh grade. Anticipation filled the air as fans of English musical duo The Ting Tings could be heard singing snippets of lyrics from their catchy 2008 hits "Shut Up and Let Me Go" and "That's Not My Name" in between songs from the opening band. Looking around the venue, a medium sized crowd was gathered, not knowing what was in store for the rest of the Monday night.
Gaining mass popularity in 2008 with their debut studio album "We Started Nothing," Katie White and Jules De Martino of The Ting Tings have been creating an eclectic repertoire of music ever since. Although their follow up album "Sounds from Nowheresville" from 2012 received mixed reviews, their most recent album "Super Critical," released last October has brought The Ting Tings back to their former glory and is also what brought them to San Diego.
The electric atmosphere that was evident throughout the night started with the opening band Kaneholler, who were surprisingly captivating with their combination of Jon Foster's EDM beats and singer Chelsea Tyler's soulful voice. The electronic duo made quite the impression on the crowd, especially with a surprise appearance by Tyler's dad, Steven Tyler of Aerosmith, who was in the crowd during both performances that night
When it was time for The Ting Tings to take the stage, it was clear that the indie-pop duo wasn't messing around. Opening with an energy packed rendition of "Shut Up and Let Me Go" was a sign of good faith for an epic show to come from the crowd-pleasing Brits.
From the start, lead singer White's main objective was to keep her fans dancing. And that's just what they did. The Ting Tings had audience members moving and grooving the entire night as they brought much more than just an assortment pop heavy hits to their show. Unlike some disingenuous pop artists of today, The Ting Tings proved themselves as full-fledged multi-talented musicians. De Martino slayed most of the night on drums (also alternating between keyboard and guitar) while White sang her heart out and executed funky guitar riffs and wasn't afraid to add a little cowbell.
The sounds of the night ranged from their new album's disco inspired tunes such as "Do it Again" to De Martino's pop punk-esc vocals on "Give it Back" off of "Sounds from Nowheresville." The Ting Tings were not ones to exclude any hits from their set list of the night. As the show progressed, the duo had the crowd vibing to both their earlier and most recent tunes alike.
White also had the crowd falling in love with her spunky and upbeat spirit, as she jumped around the stage, at one point sassily banging on the band's bass drum. The band was accommodating to their fans the entire night, providing a fun atmosphere and limiting on-stage banter, getting right to the music.
The Ting Tings were total professionals from beginning to end, and were nothing short of entertaining. The duo's high energy and flawless execution of each song made the performance a pleasant surprise for a Monday night show. Aztecs on the lookout for new music should check out The Ting Tings latest album "Super Critical" for a fun listening experience that intertwines the band's taste for modern disco and their punk roots.