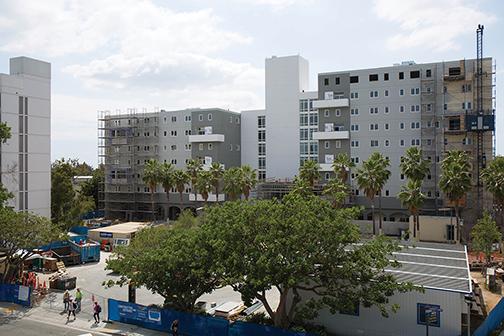 Megan Wood
San Diego State students know the residence halls are at the center of the freshmen experience. They are the setting for all-nighters, new friendships, and a taste of independence. Simply put, living situations can make it or break it when it comes to a positive first year at SDSU.
Fortunately the administration recognizes the high expectations students have when it comes to quality of living. That's why they decided it was time to renovate Zura Residence Hall.
The hall is 140,900 gross square feet and originally opened in 1968. The building is now undergoing a $53,292,000 makeover – its first full renovation ever.
The revamped residence hall is designed to impact community and academic support, in addition to providing a comfortable place to call home.
"The elevator landings between the three towers will be enclosed, providing better circulation and common space for the residents," Director of Housing Administration Eric Hansen said. "There is programmed outdoor space on the sixth floor roof deck and on the first floor that activates social and academic gatherings."
While the elevators previously only stopped on even floors, they will now stop on every floor. The community will also feature rooms that abide by Americans with Disabilities Act regulations and a gender-neutral restroom on every wing of every resident floor.
These changes may seem subtle, but Zura Hall alumni will tell you how exciting these improvements truly are. The next round of Zura tenants will surely enjoy the infamous sixth floor roof deck and benefit greatly from the improved circulation.
"My favorite part of Zura was meeting new people and making new friends, some of which I'm still close with. The sixth floor balcony sunsets were definitely a close second though," child and family development senior and former Zura Hall resident Chelsea Huettl said. "In regards to renovation, there wasn't a whole lot that didn't need renovating, so the renovation that's happening now is awesome."
Huettl is one of the many students who called Zura home during her time at SDSU. Though she will not have the chance to reap the benefits of the renovation, she's still excited for the next wave of residents to make dorm-life memories.
Many are looking forward to the re-opening of Zura Hall, but also curious about the future of several apartment complexes the school recently purchased to meet the demands of the displacement the renovation created.
Theses complexes include Granada and Piedra del Sol.
"SDSU will plan to operate the Granada apartments for first-time freshmen for one more year based on demand," Hansen said.
Zura Hall is scheduled to re-open July 15 in time to house incoming freshmen this fall. There is a live webcam of the construction progress on the SDSU NewsCenter website.