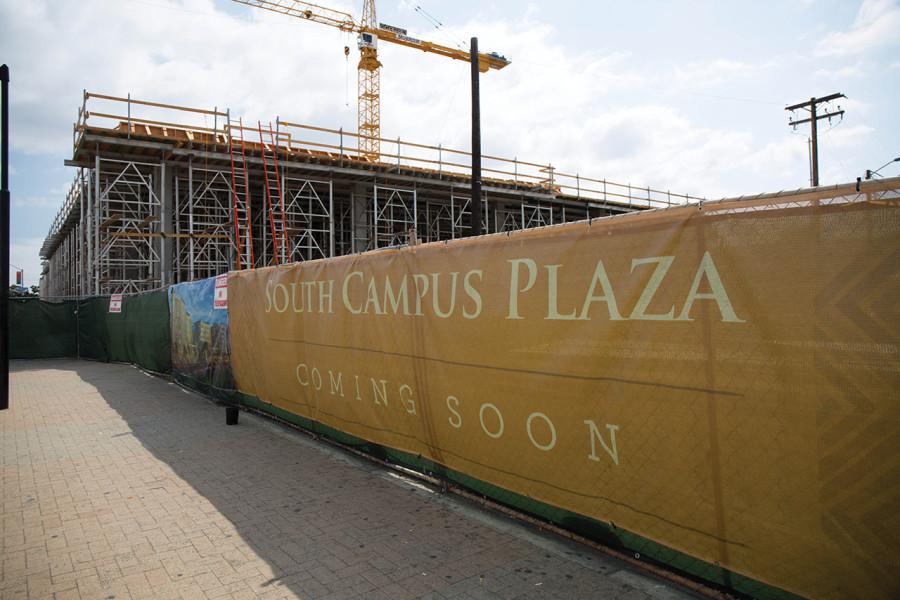 Megan Wood
South Campus Plaza is a unique student housing project that will incorporate a street-level commercial retail component open to the public. The residence hall is expected to open its doors in fall 2016.
Director of Housing Administration Eric Hansen said the retail component will certainly be an asset to the campus community.
"As a mixed-use project, South Campus Plaza will incorporate our best thinking in developing a space that meets the residential and retail needs of our campus and local community," he said. "Both for today and for the future in an environmentally responsible way."
Located south of San Diego State's Transit Center between Hardy Avenue and Montezuma Road, the plaza is meant to be a pedestrian, transit and bicycle friendly part of campus. It will include paths and greenery for students and residents to enjoy.
South Campus Plaza is also applying green building guidelines to its design as a commitment to sustainability to stay environmentally responsible. The mixed-use project will be LEED Silver-certified and will implement methods to conserve water.
Sustainability program co-director Matthew Laurer said this project is a positive development on campus.
"The design is right. It's mixed use. It's LEED certified. The LEED part of it to me is the cream on the top. The bigger move is just to have sensible urban planning."
The new plaza will include various retail shops, restaurants, a community market store and a 300-space parking structure to accommodate customers.
Hansen said negotiations are continuing for the retail vendors and no leases have been signed at this time.
The $143 million project will be able to house more than 600 students and will move SDSU closer to the housing the expected 10,000 students by 2025, which was articulated by the 2007 Campus Master Plan.
"While our near-term plans do not have a specific goal for the number of students living on campus, we do see the academic, social, and environmental benefits for students in creating an increasingly residential university," he said. "The completion of South Campus Plaza will increase our design capacity for SDSU-managed halls and apartments to approximately 4,700 beds."
With more students living on campus, traffic congestion is expected to decrease.
Laurer said the goal to get more students on campus is definitely a step in the right direction. Funding for the South Campus Plaza is coming from system-wide revenue bonds set by the state rather than SDSU tuition and fees.
Hansen said South Campus Plaza will be paid by the next 30 years of revenue that it will generate.
"This project, as with all construction, has required a lot of careful consideration and effort by many people on and off campus, but we see the benefits certainly outpacing any challenges we have experienced," he said. "This is a very exciting project for everyone involved."
To view its ongoing progress there is a live webcam that can be accessed on the South Campus Plaza website page.
As a gateway between the university and the community, South Campus Plaza is expected to be a vibrant, inviting space that will provide a pleasant shopping, dining and living experience.