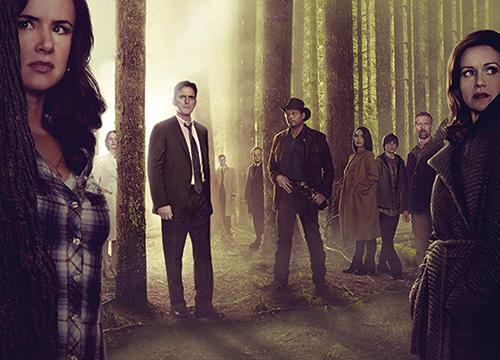 Some people are not going to give the Fox event series "Wayward Pines" a chance because M. Night Shyamalan is an executive producer of the program and directed the pilot. While "The Sixth Sense" is still a beloved movie, several of Shyamalan's recent films have been critical and commercial bombs. The good news about the TV series is that the first few episodes are an addicting and frequently bizarre head trip. 
Based on Blake Crouch's novels, "The Wayward Pines Trilogy," the mystery starts off with a Secret Service agent Ethan Burke (Matt Dillon) attempting to find two missing federal agents in Idaho. After he is involved in a deadly car crash, Ethan wakes up in a hospital located in the town of Wayward Pines.
Nothing is normal about the incorporated community. The nurse Pam (Melissa Leo) comes across as a menacing citizen acting in an unusual matter, and the sheriff Arnold Pope (Terrence Howard) does not seem like he can be trusted. Ethan becomes an unofficial prisoner in Wayward Pines and he tries to find a way to escape and return to wife Theresa (Shannyn Sossamon) and son Ben (Charlie Tahan).
The first episode does take some scenes to get going. For a couple of minutes, events go back and forth in time so frequently that viewers might have to push the rewind button on their remote to understand what is happening on screen. The narrative picks up when Ethan leaves the hospital and explores his abnormal new surroundings, which Shyamalan captures with a gleeful sense of dread.
The writers and directors of "Wayward Pines" take their time setting up major twists and revelations. Even when everything is not clear, it is easy to be intrigued by all of the different locations Ethan visits. The world-building in the show makes the environment feel grand instead of confined. 
Later episodes go into spoiler-heavy territory that might initially seem farfetched or implausible. What makes these chapters work is intelligent dialogue, which deals with grim issues in a gutsy way.
An issue that exists in the first three episodes is brief sequences outside of Wayward Pines in Seattle, Washington with Theresa and Ben. Sossamon and Tahan are fine actors, but the conversations they share together about Ethan appear to belong in a second-rate family soap opera and not in a unique thriller. The two are better when they are apart from each other, and when they do not talk about Ethan the mother and son are actually pretty interesting people.
Although "Wayward Pines" is off to a promising start, what will make or break the miniseries is how developer Chad Hodge decides to conclude the spine-chiller. If the ending is a letdown, it can negatively impact the ten parts as a whole. Yet, if the quality remains consistent to the end, then the result will be a creepy and challenging journey.      
With elements of David Lynch's work and "The Twilight Zone," as well as occasionally shocking graphic violence and a sympathetic performance from Dillon, "Wayward Pines" has all the ingredients for a provocative small-screen summer adventure. Hopefully, Shyamalan will continue to be involved with projects this ambitious in the future.
Rating: 4 out of 5 stars