Aztecs' special senior night spoiled by USC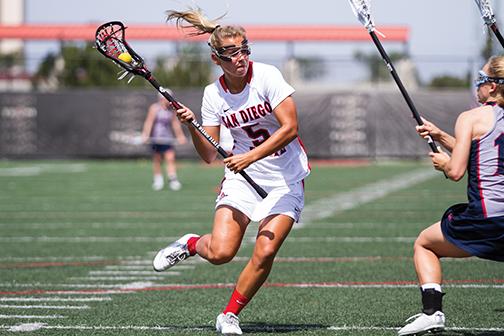 Saturday night was a special one for the San Diego State lacrosse team.
It was the final home game for the first senior class in the history of the program, and final goodbye for 11 girls that made SDSU a winning program in four years.
"They took a chance on a program with so many unknowns and a coach who hadn't yet proven herself," head coach Kylee White said of her senior class. "While we still have games to play, just knowing that it was the last time they would play on the Aztec lacrosse field was emotional."
The Aztecs (9-7, 5-4 Mountain Pacific Sports Federation) faced an even bigger challenge than emotions on Saturday, though, in the University of Southern California, who won the game 16-4.
USC (12-4, 8-1 MPSF) came out with fire from the opening faceoff, scoring four goals before SDSU could net one.
This included two scores from junior attacker Caroline de Lyra, who had four on the day.
USC would not give up that lead.  By the end of the half, they had a commanding 8-2 lead over SDSU.
"USC is a very strong team," said senior midfielder Grace Korandovich, who scored one goal in her final home game. "I don't think we necessarily did anything wrong, we just figured out too late what exactly they were doing."
The Aztecs cleaned up some issues at halftime, and it seemed as if they had figured the Trojans out, holding them scoreless for the first 8:27 of the second half.
Two quick USC goals re-established its lead, though.
SDSU scored twice in the second half, ending the day with a season-low four goals.
Junior midfielder Alexa Comfort netted one with 18:33 left, her 18th of the year. That was then followed by a score from Korandovich at the 7:59 mark.
Senior attacker Michaela Jarvis had big contributions for the Aztecs as well, scoring one goal and assisting on another.
USC never let up in the game, even when it had a very comfortable lead. It scored the final goal with 1:58 left, and left San Diego with a victory.
The Trojans led in several important statistical categories on the night.
They outshot SDSU 31-18, dominated in draw controls 14-8 and had fewer turnovers.
Despite all of this, Korandovich was proud of her team.
"We played really hard. I know the score doesn't reflect that, but we gave it our all," she said.
White echoed Korandovich's response.
"They were very ready to play. I don't think it was a bad display of lacrosse for them at all, actually," White said.  "I thought they played with a lot of heart."
The fans showed their support as well, staying through flash rain, strong winds and the loss for the home team.
When the game finally ended  the crowd gave the team a standing ovation, a sign of appreciation for the girls that have done so much for SDSU lacrosse in such a short time.
The seniors' journey is still not over just yet, though.
Now they must prepare for the MPSF tournament, a chance for redemption against teams such as Stanford University, University of Denver and USC.
The Aztecs begin the tournament by facing University of Colorado, Boulder, this Thursday at 7 p.m. in Denver.