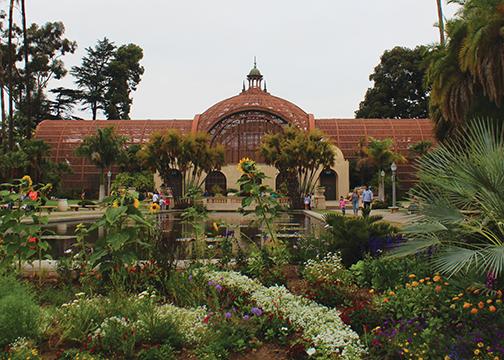 Sarah Smith, Staff Photographer
Welcome (or welcome back) to America's finest city – San Diego. Incoming freshmen or returning "in-the-know" upperclassmen, there are a few San Diego musts that every student must check off their to-do list before making the cut as a San Diegan.
Mission Beach and Bay
San Diego is the land of sun, water and sand – soak it all in at Mission Beach and Mission Bay. The Mission area is the perfect setting to try surfing, paddleboarding, sailing, rowing and so much more. For the ambitious, there's a variety of ENS classes offered at Mission Bay Aquatic Center for class credit. Not ready to commit to 16 weeks of fun in the sun? MBAC also offers discounted student rentals for those who only want a taste of water sport adventure. While in the neighborhood, don't forget to check out Belmont Park for rides, games and restaurants.
Hiking
Surprising to some, there's more to San Diego than sandy beaches and endless waves. The area is also home to incredible hiking trails of all levels. Conquer Cowles Mountain for some incredible views of Lake Murray, San Diego State and 360-degree views of the city all the way to downtown and beyond. It's only a five to ten minute drive from campus and well worth the views. Potato Chip Rock is another well-known hike worth the walk for classic "hanging on for dear life" Potato Chip Rock pictures. For additional expeditions, check out Mission Trails Regional Park with more than 60 hiking trails, wildlife and camping.
Padres Game
No matter the scoreboard or the opponent, Padres games are truly fun for all. The stadium itself is a mecca for local restaurants and breweries that set the perfect San Diego ambiance throughout the park. The organization also hosts college nights for $10 that feature a DJ and exclusive seating for local college students. Travel is equally inexpensive and convenient with the trolley dropping off and picking up at SDSU and downtown in the Gaslamp district. Mark that calendar – the next college night is Sept. 3. Go Pads!
Museums
San Diego is also home to an incredible year-round celebration of culture. Balboa Park houses several historic museums ripe with information, art and history. The park is also extremely beautiful and worth strolling around the paths and pillars for the classic San Diego ambiance. Of course, museums and attractions aren't limited to Balboa Park. The USS Midway museum in Little Italy is rich with San Diego's naval history and a fun opportunity to see a historical Navy aircraft carrier up close and personal.
Aztec Basketball
Sure, attending an Aztec basketball game in Viejas Arena isn't exactly getting off campus, but ask any upperclassman and they'll have a fond basketball game memory on hand. First and foremost, the atmosphere is tangible — Bleacher Report didn't name SDSU the number one student section in the country for nothing. Additionally, SDSU's team is good — really good — and fun to watch dominate on the court. The 7 a.m. wake-up call for tickets can be brutal, but Aztec basketball is worth the extra shot of espresso in the morning for ticket pick-up.
San Diego native or newbie, the possibilities to explore this city are endless — Fall 2015 has adventure in store for all.