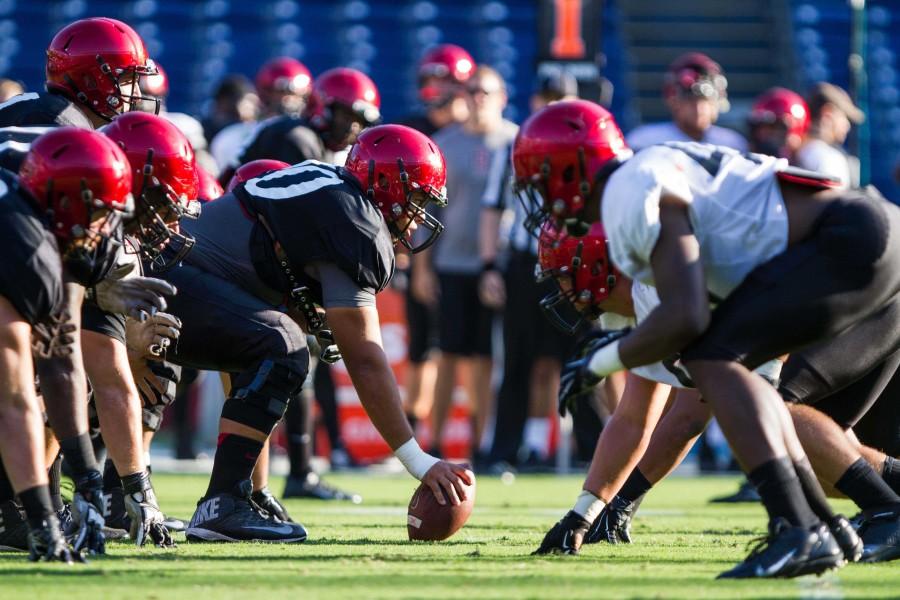 Chadd Cady, Senior Staff Photographer
If the saying "offense fills seats, but defense win championships" is true, then San Diego State football will be one of the least-attended championship teams in recent memory.
Saturday's intrasquad scrimmage during the annual Fan Fest at Qualcomm Stadium was just the latest example of how far apart the defensive and offensive units are. Where the first-team defense appears to be mentally and physically locked in, the offense looks like it's struggling to get on the same page.
"I thought the No. 1 defense looked pretty good," head coach Rocky Long said. "I thought the (offense) struggled mightily."
Naturally, some of the issues on offense are to be expected with turnover at the quarterback, wide receiver and majority of the offensive-line positions.
The offense flashed a few bright spots, including senior quarterback Maxwell Smith leading the first unit down the field against the first-team defense. On a third-and-seven from his own 26-yard line, Smith found junior tight end Daniel Brunskill wide open in the flat for a 29-yard catch and run.
Senior running back Chase Price then gashed the defense up the middle, spinning around senior linebacker Jake Fely for a 25-yard gain that set the offense on the edge of the redzone. However, after another first down, the offense allowed a tackle for loss, two sacks and a delay-of-game penalty.
The series was ultimately salvaged by senior kicker Donny Hageman, who booted a 45-yard field goal to give the offense a 3-0 lead.
From there the scrimmage took a turn for the worse offensively, as the defenses continually stalled any momentum the offenses mustered. Individually, though, a few players stood out, including sophomore running back Rashaad Penny.
On the day he had 10 carries for 45 yards and two catches for 66 yards, including a 59-yard scamper off a screen that he took to the 5-yard line. The Norwalk, California product would score the offense's first touchdown the next play.
On the other side of the ball, the first-team defense played limited snaps, which allowed backups to shine. Redshirt-sophomore linebacker Tyler Morris made his presence felt early and often as he tallied a tackle for loss on a fourth-and-one and recorded a sack.
"I thought Tyler did some good things," Long said. "I thought he made some good plays."
Senior cornerback Pierre Romain also received compliments from Long for his play, which included a pass breakup and a 63-yard pick-six, which was the first touchdown of the game on offense or defense.
The scrimmage didn't convince Long his team is ready to start the season.
"It is lucky we have two more weeks to practice," Long said.
Out of precaution, coaches limited junior running back Donnel Pumphrey to non-contact punt returns during the scrimmage.
Stats
Passing
Maxwell Smith: 6-12, 114 yards
Adam Wood: 5-10, 70 yards
Jake Rodrigues: 3-11, 30 yards
Christian Chapman: 3-10, 19 yards, 1 INT
Rushing
Rashaad Penny: 10 rushes, 45 yards, 1 TD
Dakota Gordon: 6 rushes, 39 yards
Juwan Washington: 21 rushes, 32 yards, 1 TD
Chase Price: 10 rushes, 30 yards
Receiving
Rashaad Penny, RB: 2 catches, 66 yards
Jerry Chaney, WR: 2 catches, 49 yards
Daniel Brunskill, TE: 2 catches, 34 yards