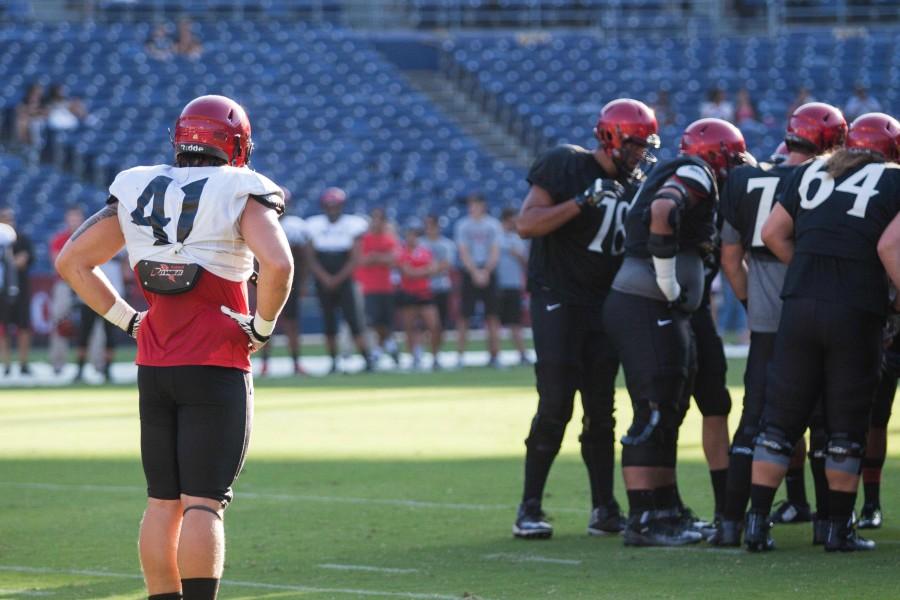 Chadd Cady, Senior Staff Photographer
It was just a scrimmage.
That might be the mantra of San Diego State football fans after they watched their team's offense lay egg after egg during the Fan Fest scrimmage Saturday at Qualcomm Stadium.
But let's start with the positives from the scrimmage: Sophomore running back Rashad Penny was agile and explosive when he got the ball, rushing for a touchdown and taking a dump-down pass 59 yards in the third quarter. There were huge plays on defense, including a devastating hit by sophomore cornerback Kalan Montgomery and an interception returned for a 63-yard touchdown by senior cornerback Pierre Romain.
Now the not-so-good, if you're a fan of offense: In one play, Romain accounted for more points (seven) than the offense had tallied midway through the third quarter (six).
The offense looked at many points disconnected, especially the quarterbacks and wide receivers.
It was an entire quarter-plus before a quarterback made a single completion to a wide receiver, which is not the showing the coaching staff was looking for.
"They struggled mildly," head coach Rocky Long said with a sigh. 
The quarterbacks threw more touchdowns to the defense than their own receivers — just one facet of an ugly day behind center for the Aztecs. Take a look at their numbers:
Maxwell Smith: 6-12, 114 yards
Christian Chapman: 3-10, 19 yards, 1 INT
Jake Rodrigues: 3-11, 30 yards
Adam Wood: 5-10, 70 yards
Some major things stand out when looking at the stats, specifically the absence of touchdowns and impressive accuracy. It's no wonder the starting spot has been an open competition at fall camp.
Smith, the tall and confident graduate transfer from University of Kentucky, labored early on in the scrimmage.
He led a drive to the red zone in the first quarter but stalled when his offense reached the 10-yard line, traveling exclusively in reverse. Two sacks later, the offense settled for a 45-yard field goal.
The second time Smith made it to the red zone, he again couldn't convert for six points.
Smith played against some of the best defenses in college football back in his SEC days, but SDSU's defense effectively beat him Saturday evening. He didn't by any means help himself with his play, which was mostly against the second-team defense.
This became painfully clear on Saturday: The Aztecs will have a lot to improve on before they take the field on Sept. 5 against a not-so-formidable opponent in University of San Diego.
"It's lucky that we have two more weeks to practice," Long said.
Agreed.