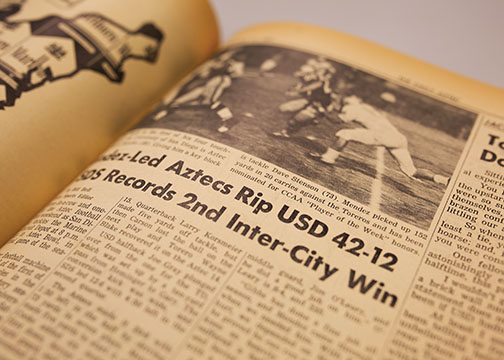 Megan Wood
For only the second time in history, the San Diego State and University of San Diego football programs will square off for both teams' season opener on Sept. 5.
The last time these cross-town rivals met was in 1961. To put that into perspective, that was the same year President John F. Kennedy was inaugurated and the movie "West Side Story" was released in theaters.
The first game in 1961 between these two was hyped up to be the big intra-city rivalry. But the Aztecs easily won bragging rights, beating the Toreros 42-12.
Running back Mario Mendez carried SDSU behind his four rushing touchdowns.
While the game itself was a dud, the week leading up to the contest kept both teams' student bodies on their toes, as both USD and SDSU participated in inter-school pranks.
Everything from kidnapping to vandalism was done to rile up the opposition, with the grand finale culminating in a halftime brawl that required nine units of policeman to keep the peace for the remainder of the game.
Regardless of the off-the-field antics, the game would go on to mark a crossroads for these two programs.
USD suspended its football program at the end of the season, and didn't fully reinstate operations until 1973. The Aztecs, meanwhile, were led by legendary head coach Don Coryell to its golden era of football and ultimately became a Division I program in 1969.
Fast forward 54 years and the game Saturday may not have the same buildup, but that is not to say people aren't excited.
"The buzz around here is great," senior cornerback J.J. Whittaker said. "The school feels it and I think the city of San Diego feels it as well. September 5 is monumental in a sense."
The buildup has been tempered this time around, due in large part to the current affairs of USD compared to SDSU
Not only are the Toreros a Football Championship Subdivision program, the second-tier of college football, but they are also a member of the Pioneer Football League, a non-scholarship conference. The Aztecs are a member of the Football Bowl Subdivision and have 85 football scholarships to hand out.
Even with an obvious edge, SDSU head coach Rocky Long said it's all business when it comes to his team's preparation.
"I think we are taking the approach we always do," Long said. "We as a coaching staff and I assume our players are taking it like every game: serious and respectful to our opponents."
Aside from the contrasts, both programs have shared a similar level of success unrivaled in either of their recent pasts.
SDSU has been to five consecutive bowl games, equaling their total number of bowl appearances from 1969-2009. USD has won or shared three PFL titles in the last four years and went to their first FCS playoff game in program history last season.
USD's recent success has allowed the Aztec players to focus on the game and not look past what is an uneven matchup on paper.
"They are an up-and-coming program," Whittaker said. "They went 9-4 last year and they got predicted to win their conference, as well. So taking them as an underdog, we don't. We respect our opponents and we respect them, as well."
As it will become obvious on Saturday, these teams are also similar on the field. Both coaching staffs have an old-school mentality, leaning heavily on the rushing game.
The leading rushers for bpth teams, USD's redshirt-junior running back Jonah Hodges and SDSU's junior running back Donnel Pumphrey, return to their teams and will carry their respective offenses throughout the season.
That's especially true with both teams losing their starting quarterbacks from last year and questions in the passing game remaining for both sides.
Nonetheless, Saturday should have a huge turnout as both programs' fan bases come out to watch a game 54 years in the making.