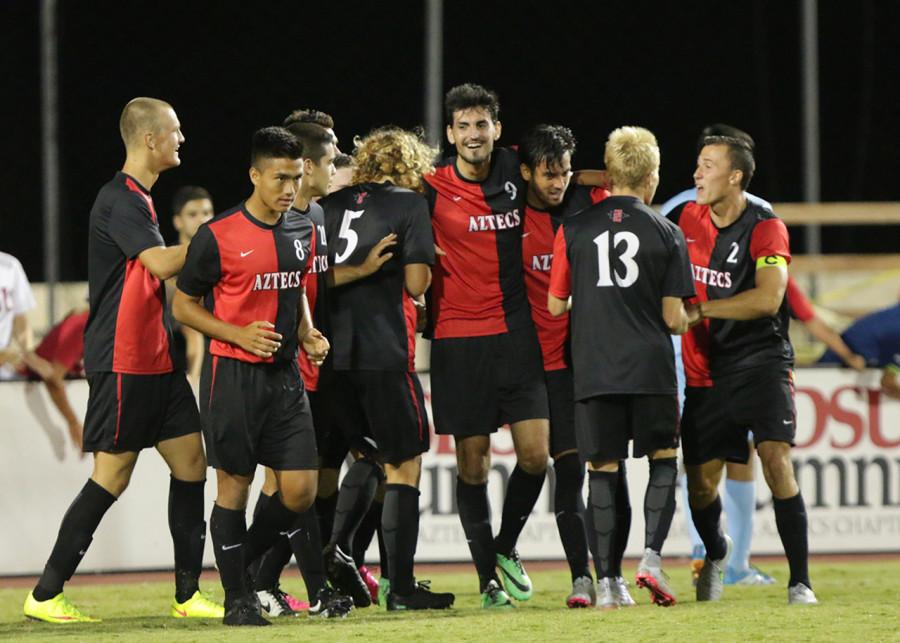 Cristian Rangel
The San Diego Christian men's soccer team entered Saturday's game against San Diego State with a 360-minute shutout streak. That streak didn't survive long against the Aztecs as they fought their way to a 3-1 win over the Hawks at the SDSU Sports Deck.
"We wanted a hard contest," SDSU head coach Lev Kirshner said. "That was a good team and it put us under some duress."
The game started off at a slow pace, but things picked up in the 27th minute as the Aztecs compiled back-to-back scoring chances for senior forward Rene Reyes.
In the 28th minute, sophomore forward Winston Sorhaitz slipped past a Hawks defender and provided a well-placed cross for Reyes to tap in, making the score 1-0 Aztecs.
"(Sorhaitz) got us started correctly with a beautiful run beating that defender with such class and then laying a perfect ball for the tap-in," Kirshner said.
SDSU kept the pressure on in the 31st minute when sophomore midfielder Ozzie Ramos unleashed a shot from five yards outside the box that rattled off the crossbar.
The first half ended with the Aztecs ahead 1-0. The Hawks managed only one shot on goal in the first half against SDSU's back line.
SDCC ramped up the intensity in the second half and in the 56th minute junior midfielder Borja Suarez set up senior midfielder Alex Saliba for a one-on-one opportunity against SDSU freshman goalkeeper Nedin Tucakovic. Saliba converted the chance and evened the score 1-1.
The Aztecs responded quickly in the 61st minute with a Reyes header off of a corner that took a sensational save by Hawks' senior goalkeeper Ryan Huerta to keep the score level.
The game remained scoreless until the 77th minute when Reyes controlled a low cross from junior defender Matt Callahan with his chest and volleyed the ball into the back of the net to give the Aztecs a 2-1 advantage.
"(Reyes) is very intelligent in his runs up top and very good inside the 18 (yard box) with his finishing," Kirshner said.
SDSU padded its lead in the 81st minute when a throw-in by Callahan bounced around in the penalty area and found Sorhaitz who finished to goal to end the scoring 3-1.
Sorhaitz was named man of the match, tallying a goal and an assist in the game.
The win makes the Aztecs 2-0 for the first time since 2006.
"It's definitely an important win," Reyes said. "It was a really good atmosphere from both sides."
The two goals in the game give Reyes a total of three goals on the season. He said he attributes the offensive success to the variety of attacking options the team has.
The defensive intensity was constant throughout from both sides and the aggressive play resulted in a total of seven yellow cards issued with five going to the Hawks and two to the Aztecs.
"(The game) was really a good marker for us," Kirshner said. "We showed a lot of character."