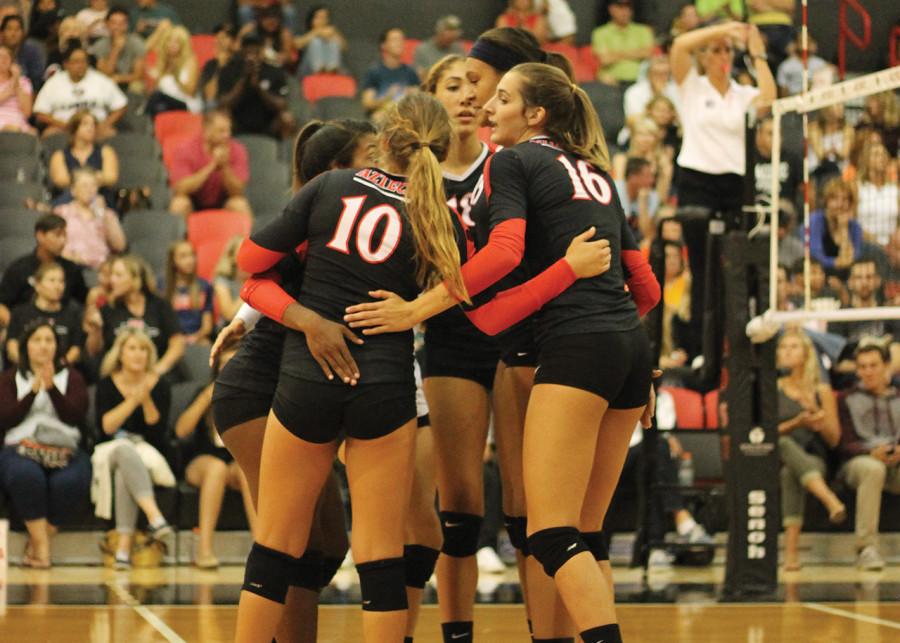 Meghan McCarron
For the past two years, San Diego State junior Hailey Jones played volleyball at Irvine Valley College, a couple hours north of SDSU.
Over her career for the Lasers, they compiled a 51-2 record, she was a two-time All-State selection, led California in assists as a sophomore at 11.43 per set and led the team to a 27-0 undefeated state championship in 2014. It's safe to say she is ready for Division I volleyball.
One reason Jones is so well prepared for this transition is her former head coach at Irvine Valley College,Tom Pestolesi. She credits his coaching along with Butch May, father of Olympic beach volleyball gold medalist Misty May-Treanor, for helping Jones get to where she is today.
Volleyball isn't all she's interested in, though.
An avid snow and water sports participant before seriously pursuing volleyball, Jones is all about being active. She grew up sailing and snow skiing with her family and continued to snow ski and play soccer and volleyball at Rim of the World High School in Lake Arrowhead, California.
Coming into her first season with the Aztecs, she believes they can outplay their modest preseason prediction of finishing sixth in a tough Mountain West Conference that includes nationally ranked Colorado State.
"I definitely think that we can finish higher than that. There is a lot of team chemistry and talent on this team that is slowly coming together. I feel pretty good about it," Jones said.
In August, the team took its first road trip to University of San Francisco for a tournament, which was a big moment for Jones who took her first road trip and played in her first game as a Division I athlete.
SDSU had some nerves starting its season, dropping the first two games of the 2015-16 campaign, but then followed it up with the first win of its season against CSU Bakersfield.
"The nerves are gone and we got all the jitters out. I think it was good for us and we'll come back strong to start the season," Jones said.
Having been on such a successful team in junior college, Jones got a competitive edge and attitude that she feels will translate well to SDSU  when its fighting for a win.
In order to get into that state of mind, the team routinely participates in a "power hour" before a game. This consists of listening to music, getting pumped up and getting focused for the game with scouting reports of the opposition's offense and defense.
After a hopeful two successful years as an Aztec, Jones's long-term goal is to play professionally for a year after college so she can travel.
Her ideal destination is Switzerland, as it is home to some of the best professional leagues.
Academically, Jones is an economics major and admits that the school kind of chose her after her initial business major classes didn't transfer over to SDSU from Irvine Valley.