Students react to new Zura Hall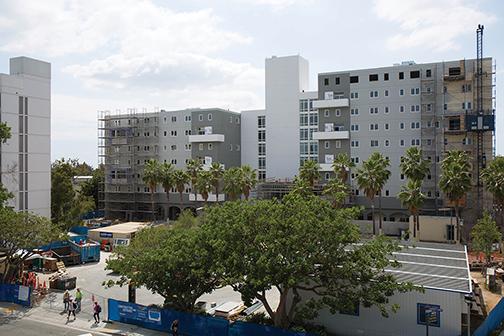 San Diego State's Zura Hall is aesthetically and functionally superior to other dorms on campus, and many students are content with the variety of living situations on campus. 
As incoming freshman arrived for move-in day, many were excited by Zura's modern style and drought-friendly landscaping.
"I feel lucky to be living in a beautiful, newly renovated building on campus," said Sara Smith, a communications freshman and Zura Hall resident.
But, Zura has also sparked conversation about the future of older dorms.
With fresh coats of paint, new furniture, sparkling appliances and a comfortable terrace  complete with fire pits, the renovation cost a total of $54 million. Zura's upgrade was financed through bonds, which will be repaid in boarding revenues.
Dorm residents will now be paying more for living expenses than in years past. For example, a triple room with a 10 meal plan used to cost close to $10,600. This year, it has risen by more than $1,000.
The way SDSU places students in dorms is largely based on preference and randomization. A student at the new Zura Hall will pay as much as a student at the much older Tenocha Hall.
"I believe it is fair because otherwise students with more money would have an advantage, forming a social hierarchy," Smith said.
Most students are content with their placement in the dorms, regardless of the aesthetics.
"Although Chappy is an older dorm, especially compared to Zura, it is nice still and I do like it," said Nicole Torres, a kinesiology major and Chapultepec resident.
Torres also agreed that the distribution of students at random into the different dorm halls is fair and promotes social equality.
Although some residents wish to be in a newer hall, Housing Administration Director Eric Hansen reassures there has been no amount of significant backlash from students in the older halls.
"Our primary emphasis in the residence halls is the academic and personal success of our students," he said. "The various residential learning communities and the program and support provided by our colleagues in Residential Education provide that needed structure."
For those residents who put their hall's condition above all else, room request and hall switch requests are available after the third week of the semester.
The Office of Housing Administration plans to upgrade all SDSU dormitories in the near future. But high costs of residential living services have increased the overall price of housing students.
"The first is the increased cost of operations including food, staffing, utilities, equipment, capital projects," Hansen said.
Hansen said the increase was also result of infrastructure and basic constructions costs.
Zura was chosen as a candidate for an upgrade for multiple reasons.  A facilities condition analysis was conducted of all dorms and it was determined that Zura was in most need of repair based on multiple assessments that looked at both aesthetic and functional failings.
 "All agreed Zura was in the greatest need of repair," Hansen said. "An architecture firm concurred with that assessment."
Tenochca Hall will be next to join Zura on the list of upgraded student housing.