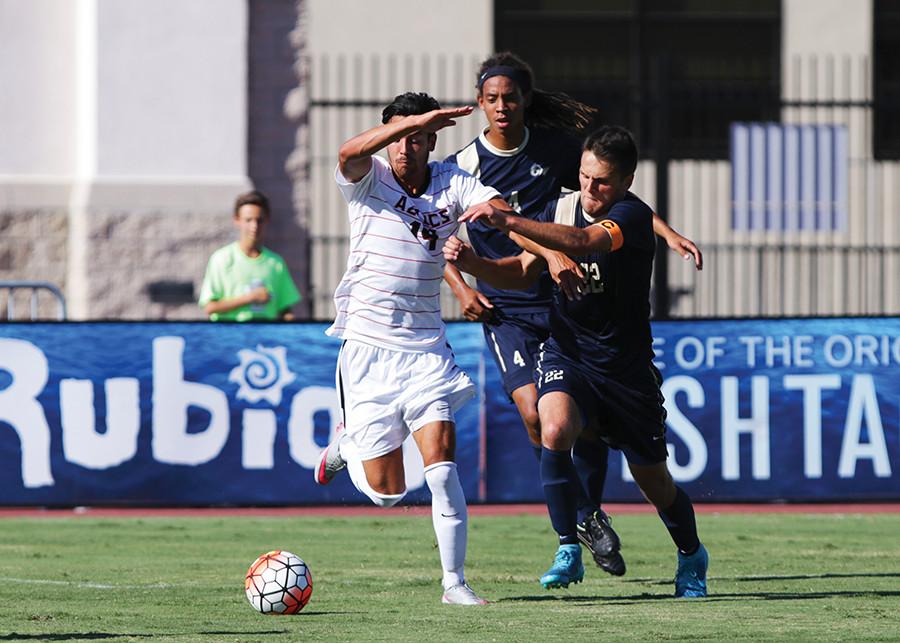 Cristian Rangel
Despite the cold winters he was accustomed to growing up in Norway, senior forward Rene Reyes is off to a hot start this season for San Diego State men's soccer.
He has four goals and two assists in seven games this season and has already tied his season-high for goals in a game, which he set as a freshman at Jacksonville University.
Reyes has bounced around a lot at the collegiate level with stints at Jacksonville University and University New Mexico before coming to SDSU last season.
Reyes bounced around quite a bit before coming to the U.S., too.
He got his start in soccer at age 4 when he practiced with his friend's team, which was made up of kids who were all a year older than him.
When he turned 5 he joined the team and he was eventually picked up by the youth academy of FC Lyn, a Norwegian professional soccer club.
Reyes said he also played hockey in his backyard with friends when he was young.
"It was a lot of yellow cards growing up," Reyes said with a laugh.
He grew up in a multicultural neighborhood and made many good friends he has known since he was 6 years old.
"It's a safe place," he said. "It was a good environment to grow up in."
When he was 19 he got an email from a scout offering him a chance to come play collegiate soccer in the U.S., but he turned the scout down immediately because he wanted to go pro in Norway.
A year later, the team Reyes played for went bankrupt and he was picked up by another club.
He said things didn't work out between him and the new club so he contacted the scout about the opportunity to play in the U.S.
He had everything set up to go to Coastal Carolina University, but his SAT scores weren't good enough so he decided to take a year of community college and transfer to Jacksonville University instead.
"Most people in Europe know about Florida and California," Reyes said. "When a scholarship offer came from Florida … it sounded like a good deal so I took it."
Jacksonville's soccer program was brand new and after a year in which he scored four goals he decided to transfer to New Mexico.
"I had fun with the guys, but I didn't think the soccer was good enough," Reyes said.
Reyes appeared in three matches for New Mexico, but he said things didn't click between him and the team so he was faced with the decision to try to find another school or go back to Norway.
He called up his friend from Norway, Henrik Synnes, who played for SDSU last year, and asked him to talk to head coach Lev Kirshner about his situation.
He said Kirshner was understanding of his ordeal and helped him work out eligibility issues with the NCAA.
Reyes was able to play in eight games last year and finished fourth on the team with two goals.
"What Rene does well is he finds good pockets inside the 18 (yard box) to get goals," Kirshner said. "He's got a sense where balls are going to fall."
Now in his fourth year in America, Reyes said he's used to the school system and loves the weather in San Diego.
As a senior majoring in economics, Reyes said he doesn't have much time during the season for activities other than school and soccer.
"My goal is to try and help the team as much as I can," Reyes said. "Try to be the guy they can depend on when it's needed."