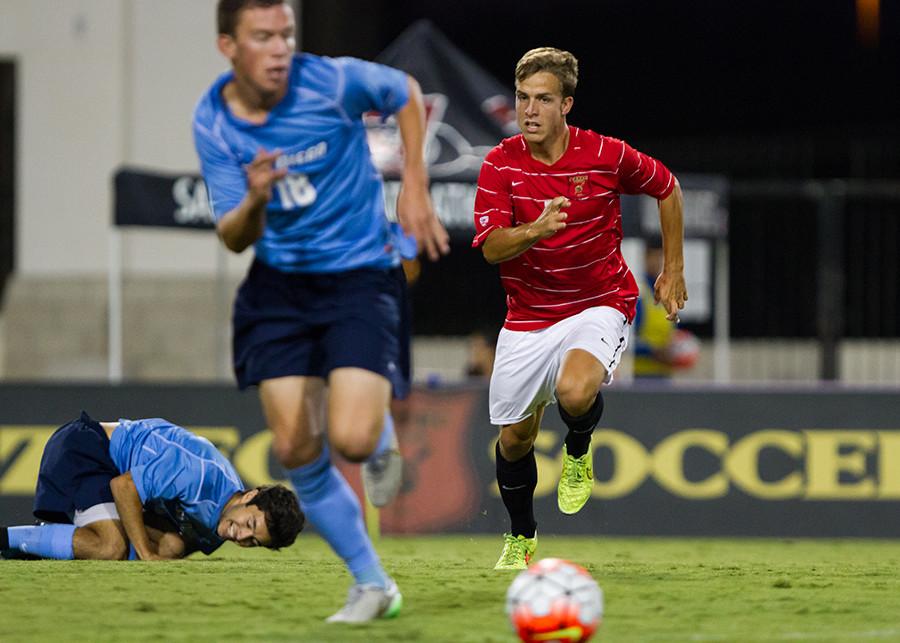 Chadd Cady
After a 1-0 victory in double overtime over University of the Pacific on Sunday, the San Diego State men's soccer team will look to continue its early season momentum in two tough road tests this weekend to open Pac 12 play.
SDSU takes on No. 15 University of Washington on Friday at 6 p.m., then travels to Corvallis, Oregon to play Oregon State on Sunday.
Both Washington (4-1-3) and Oregon State (5-3) are coming off of recent losses to nonconference opponents. Washington lost to Seattle University 2-1 then tied Portland University 0-0.
Oregeon State suffered three consecutive losses to Portland, Gonzaga University and Seattle.
"The key for us is always going to be that our defending remains compact," head coach Lev Kirshner said. "If we can keep the goals-against margin at zero, hopefully we can sniff one on the other side either through counters, through good build-up or on set-pieces."
Washington and Oregon State rank in the top five in the Pac 12 in goals allowed per game with the Huskies giving up .46 goals per game and the Beavers giving up .87 goals per game.
SDSU is averaging 1.88 goals per game and allows only .70 goals per game on average.
The Aztecs limited Pacific to only five shots in regulation on Sunday as part of their fourth clean sheet of 2015.
"(Pacific) didn't have one shot in 52 minutes and that is very impressive and very difficult to do at the Division I status," Kirshner said.
The Aztecs will need their defense to continue its dominant play against Oregon State's leading scorers, sophomore forward Timmy Mueller, who has five goals, and sophomore forward Jordan Jones, who has four goals.
The Huskies have shut out opponents in 75 percent of their matches, thanks to senior goalkeeper Ryan Herman's .879 save percentage, which ranks fifth in the NCAA.
But Washington has had difficulty generating offense with just nine goals and five assists in eight matches. SDSU, on the other hand, has been able to generate 15 goals and 15 assists without its full attacking force intact.
Senior forward Rene Reyes leads the team with four goals and three assists.
With sophomore center back Julio Alarcon out with injury, Kirshner said he hasn't been able to play junior defender Travis Nicklaw and freshman defender Aleks Berkolds in the attacking roles he would like.
"It has been a bit of a roulette wheel in trying to find our best combination," Kirshner said. "We haven't had a lot of opportunity to get into our attacking rhythm and that is something we're definitely locating and trying to build on right now."
Despite the team's overall success in scoring goals it has only managed to score one goal in its two road games so far. Kirshner attributed this inconsistency in scoring on the road to the fact that 11 of the 23 players this year are new.
"It's taken us some time to gel together a bit and get our possession down," he said. "We still are not dangerous enough in getting behind (defenders) and we're working on that, as well."
The Aztecs enter Pac 12 play with a record of 5-1-2, its best since 2011.
"Those first eight games were training grounds for us," Kirshner said. "We were preparing ourselves for the Pac 12 which meant we trained (the team) very hard even prior to games."
Last year SDSU went 1-9 in conference play, including seven losses by one goal, but got it's only win against an Oregon State team that was ranked 17th at the time.
"Pac 12 coaches feel like we're the worst team in the conference and it's our job to make sure that they're incorrect in that judgement," Kirshner said.