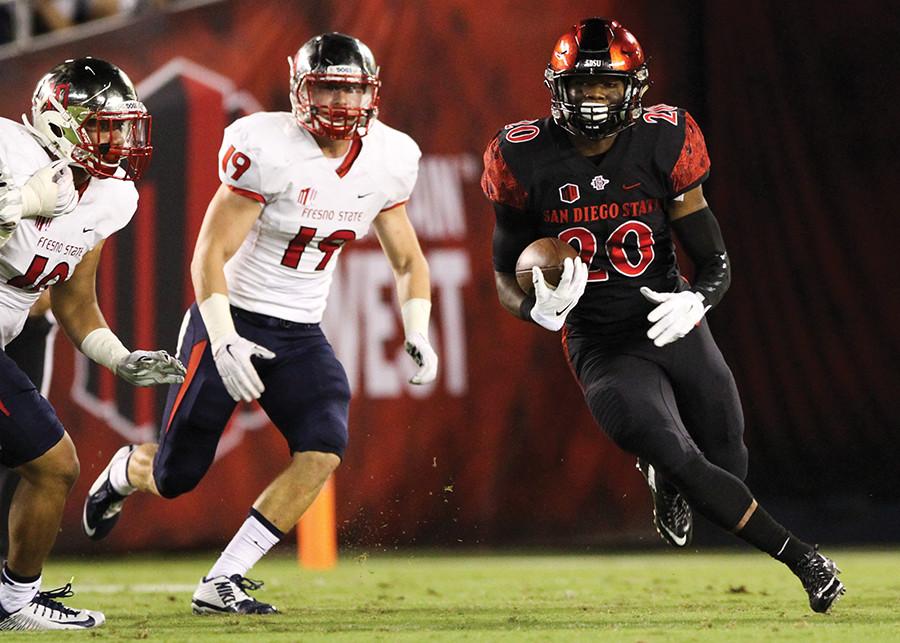 Chadd Cady
For a running back patience is a virtue.
That could not be truer for sophomore back Rashaad Penny.
"That's something I learned from last year," he said. "Just being patient and waiting your turn. That's what I feel like everybody has done here. When they finally got their number called they executed well."
Last season as a true freshman Penny had only two offensive touches and was relegated to kickoff returns, where he ran back 20 for an average of 25 yards per return.
Fast-forward one year, and a lot of patience by Penny, and he has all but forced the San Diego State football coaching staff to find ways to get him the ball.
And for someone who exudes patience he didn't waste any time to prove that patience wasn't all he learned last season, as he returned a 97-yard kickoff return for a touchdown in the Aztecs' season opening win over University of San Diego.
Three weeks later Penny replicated his week one magic and took a 100-yard kickoff return to jumpstart SDSU against Penn State.
"I am more confident on kickoffs," Penny said. "I am finally getting to show people that I am not just what I was last year, you know timid. I am more explosive."
Explosive is an understatement, as he is second in the country in kick return average with 37.5 yards per return and is tied for first in the nation with two kickoff return touchdowns.
Penny's teammates have taken notice of his ability in the return game.
"When you make a big play guys start looking up to you and respect you," he said with a large smile. "(Senior) Darrelle Greene is my favorite lineman and he calls me 'Penny Hester.' But I don't try to take that to head, because I still got a long ways to go."
Where Penny has excelled in the return game, he has yet to receive the offensive touches to show his full skill set.
Unfortunately, for him offensive carries are hard to come by as he sits behind junior running back Donnel Pumphrey and senior back Chase Price. He also has to compete with fellow sophomore back Marcus Stamps who battled nagging injuries early in the season.
Even with all four players vying for the same position and touches, the running backs are a close-knit group.
"We all expect big things out of each other," Penny said. "We got so much closer during the offseason. We feed off the energy of each other."
However, even in limited offensive action he has eight carries for 112 yards and five catches for 90 yards, including a touchdown.
"I'm just waiting until I get my shot and I am going to show them," Penny said.
And if Penny has showed anything in his time atop the Mesa it is he will be patient and when his number is called everyone will take notice.