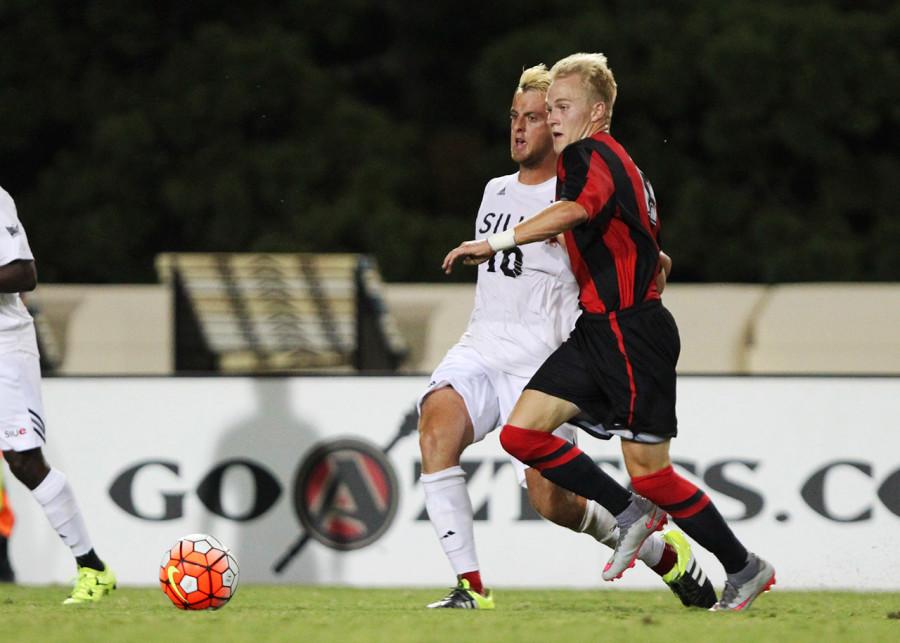 Kelly Smiley
After a tough road trip that included three losses to open Pac-12 play, San Diego State men's soccer is back home and looking to rebound in its weekend matchups against UC Berkeley on Friday and Stanford University on Sunday.
SDSU lost 1-0 to both University of Washington and Oregon State earlier this month, then suffered a 4-0 loss to UCLA on Monday.
The Aztecs enter the weekend with a record of 5-4-2 overall and are in the midst of their longest losing streak of the season at three games.
"We have to get these two wins this weekend at home and then we're right back there," senior defender Matt Callahan said. "We just have to fuel our fires, stop the bleeding and win our first game (in conference)."
The Aztecs have been held scoreless in their last three games and are fourth out of six teams in the Pac-12 with an average of 1.36 goals per game. 
"We had a couple decent chances at Washington. We had a lot of good chances at Oregon State and we were anemic against UCLA," head coach Lev Kirshner said. "We're playing the best teams in the country and if we're not sharp in front of goal we're not going to score goals."
SDSU has been shut out in five of its 11 matches and will be facing a Stanford defense that ranks fifth in the nation with .43 goals allowed per game.
Callahan said the team knows it has to play mistake-free soccer to compete with Stanford — the No. 3 team in the country.
"Our biggest thing is if we score first we usually don't lose games so we just have to get that first goal and then keep the shutout," he said.
Cal, meanwhile, has gone 0-2-2 in its last four matches, including a 2-2 draw against Oregon State and a 0-0 draw against No. 20 Washington in its previous weekend matchup.
Cal is one spot above SDSU in the Pac-12 standings with an overall record of 5-3-2.
SDSU will get junior defender Travis Nicklaw back after he missed Monday's game to play for the Guam national team, but Kirshner said sophomore defender Julio Alarcon is done for the season with a torn labrum.
Junior defender Sergio Enriquez and freshman defender Aleks Berkolds both suffered injuries on the road trip and their availability for the games this weekend is uncertain.
"We have to plug in (defenders) and whoever is plugged in needs to be ready to go," Callahan said. "Me and Kyle Adams need to help out the new guys that are there so communication is key."
Despite all the injuries at the back line the Aztecs have given up two or more goals in only two games and rank fourth in the Pac-12 with a goals allowed average of 1.09 per game.
Kirshner said the team worked on getting back to its Aztec warrior mentality in practice this week.
"(That type of mentality) is horrible to play against," he said. "Which means great individual defending and pressure on the ball."
The Aztecs have had trouble on the road thus far with a record of 1-3-1, but they are 4-1-1 at home this season.
"We have to defend our turf and I think that's huge for us mentality-wise," Callahan said. "We always come out a lot faster at home and I think we need to translate that into away games and realize that road games are just as important."
The Aztecs face Cal on at 4 p.m. on Friday and Stanford at 11:30 a.m. on Sunday. Both games are at the SDSU Sports Deck.