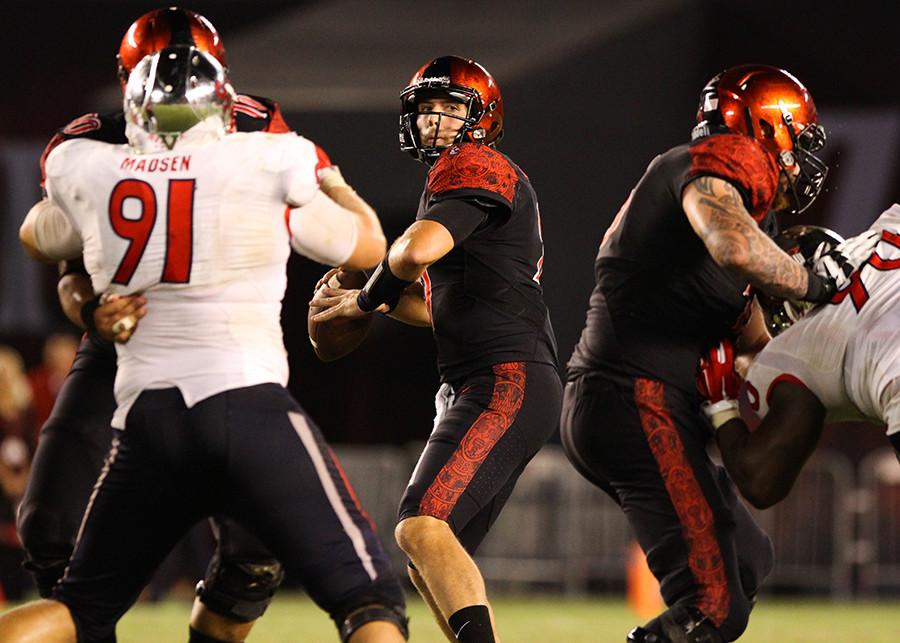 Chadd Cady
In the battle for the "Best in the West," the San Diego State Aztecs (4-3, 3-0 Mountain West) bullied their way to a 30-7 victory over the San Jose State Spartans (3-4, 2-2 MW) in Northern California.
In the most crucial game of the year SDSU played arguably its most well-rounded game. The Aztec defense lived up to its preseason hype for a third straight week, as it toyed with the second-ranked MW offense.
That defense had a tall order to stop a balanced Spartan attack led by one of the most potent players in the country, senior running back Tyler Ervin. However, the Aztecs limited the nation's leader in all-purpose yards to just 21 offensive yards on 20 touches.
SJSU junior quarterback Kenny Potter did not fair much better than his star running back, as he regularly had one or two Aztecs breathing down his neck. The pressure got to the junior signal-caller four times and he threw two interceptions that resulted in 10 SDSU points.
As it turned out, the only thing Saturday night that could beat the Aztec defense was…the Aztec defense. The lone touchdown for the Spartans resulted in large part thanks to SDSU defensive penalties.
Three penalties – two by senior cornerback JJ Whittaker – extended an SJSU drive that was capped off by a Potter quarterback sneak from the 1-yard line.
Offensively, junior running back Donnel Pumphrey, once again, was the offensive Swiss army knife for the Aztecs. On 20 carriers Pumphrey had 152 yards and a touchdown to go with three receptions for 55 yards, including his first receiving touchdown of the season.
The rushing game continued its success as it eclipsed the 200-yard mark for the third straight week.
Graduate transfer quarterback Maxwell Smith played the role of game manager and did everything necessary to keep the offense on schedule. On the night he was 10-for-14 for 144 yards with a single touchdown. More importantly he had no interceptions, which extends his streak to 100 passes without an interception.
The only three-and-out for the SDSU offense came in the fourth quarter and with a 30-7 lead.
The Aztec special teams unit rounded out the three phases of SDSU football, as senior kicker Donny Hageman was 3-for-3 in both field goal attempts and extra points. Junior punter Tanner Blain only averaged 39.3 yards per punt but booted all three of his punts within the Spartans 20-yard line.
The only problem SDSU head coach Rocky Long will have with his team was the lack of discipline and the nine penalties that his team tallied for 76 yards.
Regardless, the win marks the best start to conference play under Long and places the Aztecs alone atop the MW West division with a two-game lead.