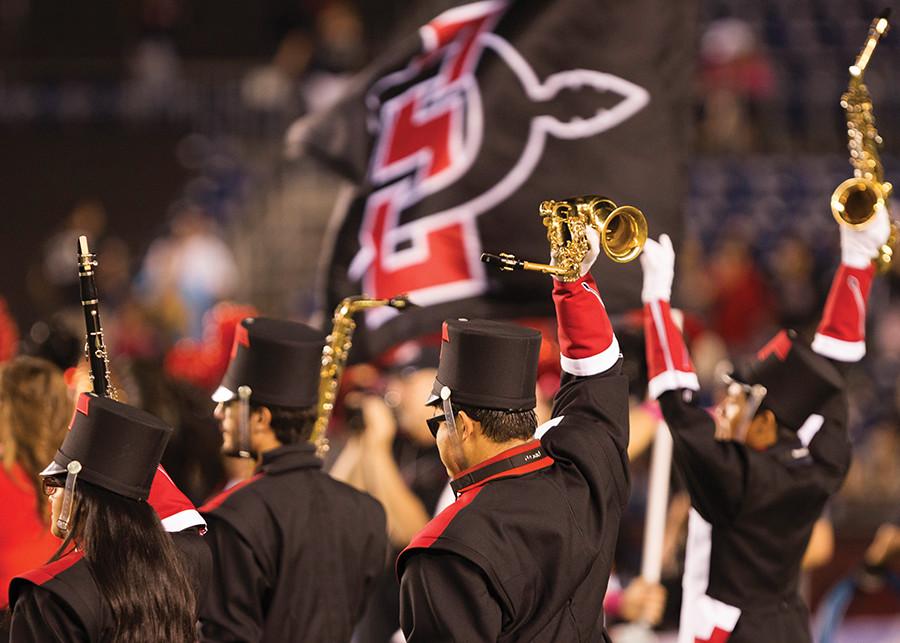 Megan Wood
By the time their halftime performance at Qualcomm Stadium rolls around, the San Diego State Marching Aztecs are a well-oiled machine.
Each performance is practiced weeks in advance and thought of months in advance.
Each note is perfectly tuned, every motion expertly coordinated.
Led by band instructor and SDSU alumnus Bryan Ransom, the 240-student ensemble prepares six new shows each season, one for every SDSU home game.
Each performance encompasses up to seven or eight songs, along with an intricate marching formation, all of which have to be memorized and mastered in as little as a week.
"They have to be perfect," drumline instructor Tohbias Juniel said. "We don't have off-weeks."
Even though each game performance may differ, the preparation remains the same, and the goal of perfection is constant.
So what exactly goes into the pursuit of marching perfection?
Bye week a blessing
So far this year, the band has been lucky enough to consistently have at least two weeks separating each home game.
This is helpful for the band, which has the task of learning two to three new songs for each performance — one for the pregame feature and two for each halftime.
In total, the band has memorized around 45 songs, which vary from pop to rock 'n' roll to classical styles.
Most of this week is devoted to memorizing the new material, which takes place individually for each unit of the band.
The drumline, for instance, practices for seven hours each Wednesday to learn the music.
"The extra drumline practice is very necessary," sophomore Nimish Saxena said. "It's our only opportunity to work on our own play, whether it be music or cleanliness, as it can all be hard to pick up quickly."
The songs, which are chosen long before the season begins, differ in style and difficulty.
"I always try to do some stuff that's recognizable, some pop stuff, and some stuff that's a little more challenging," Ransom said. "I make sure to vary the shows so that the common person in the stands who half-watches and half-listens to the show knows that there's something different from week to week."
Game week
The real challenge, however, is putting the music and movement of the performance together.
On Monday before the game the whole band attempts to do so, as it practices together for the first time.
The band will begin to work on its formations and drills, attempting to move with rhythm and decisiveness.
"If I have a plan coming into a week and we have a Monday rehearsal and things don't go exactly as we wanted to, we get a little bit behind and we have to adjust," Ransom said.
And with only 5 1/2 hours where the whole band can practice together, even falling a little bit behind can be devastating.
Wednesday, the longest day of rehearsal, often features a walk-through near Viejas Arena and the Aztec Corner apartment complex.
By the end of Wednesday's practice, all the Marching Aztecs have memorized each song and step that goes into the performance.
The final day of preparation is also the only day that all pieces of the performance come together, with the dance team, color guard and baton twirlers accompanying the band to walk through the show.
More than any other day of practice, Friday requires perfection. If there are any glaring mistakes, there is limited time to fix them.
Seeing all the fans cheering at Qualcomm Stadium, though, makes all the stress and practice that much more rewarding.
"It's definitely really cool," said Castro, who has been a Marching Aztec since her freshman year at SDSU. "Especially the first few games when there is a big crowd, it's pretty special."