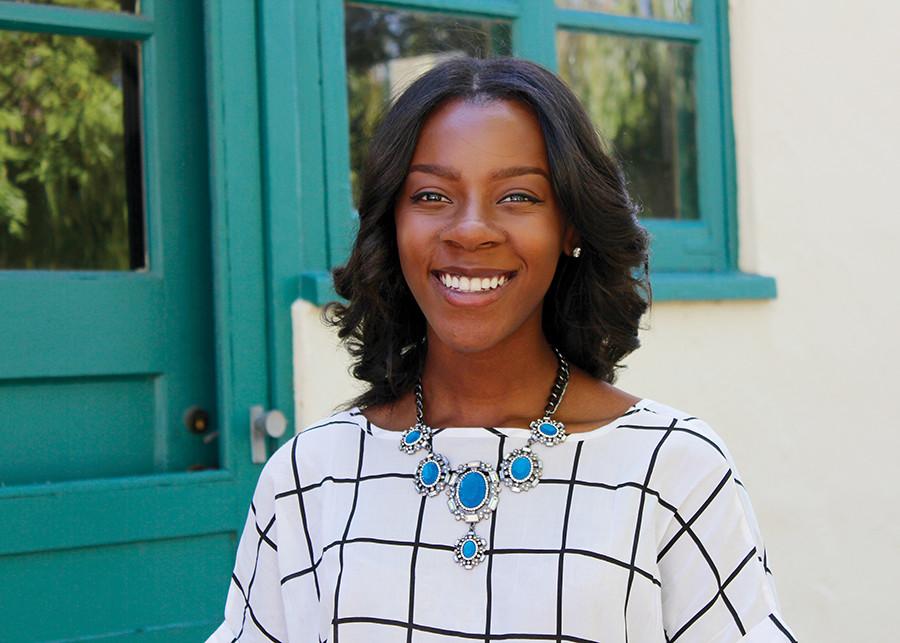 Christine Whitman
Art starts here
The visual and performing arts learning community on campus is not just a residence hall but a safe haven for student artists to express themselves and foster connections that last throughout their time at San Diego State and beyond.
"It's really cool to be able to talk and live with people that are in your same classes and have the same interests as you," said Gaby Coronado, a television, film and new media freshman with an emphasis in production.
Coronado said the community provides many opportunities to network and develop connections with people from various arts disciplines.
The creative environment is beneficial to the residents for academic purposes, and it also creates a close-knit community for the artistically inclined students.
"When everyone else is there making music or filming something in the area, it's easily accessible to find friends who are interested in the same things you are," theatre arts freshman Nicholas Luine said.
The living community has provided residents with a plethora of opportunities for collaboration, be it for academic or personal projects.
"My roommate is a filmmaker, so that works out great because I'm an actor, so we collaborate on films and stuff," Luine said.
The community not only allows students to explore their own art disciplines, but it also exposes them to other artists' work.
"I feel like I've become more open to trying new things because it's just really inspiring to see how everybody works," TFM freshman Jada Johnson said.
Johnson said it has been fascinating living in the community as an inexperienced art student because there are people from many different fields of art. There are actors and filmmakers, as well as students with no academic connection to the arts community, just an appreciation for it.
Dance freshman Brystan Bailey said the learning community provides a built-in support system for the artists.
"One day my agent called and I needed a recording of myself for a commercial, but right across the hall from me is a film major so I asked them to help me," Bailey said. "And stuff like that happens all the time."
Bailey was once performing in a show for Performance Forum, a class for dance majors. She thought a lot of people weren't coming to it because of scheduling conflicts, but when she told her floor about it, they all seemed excited.
"Those connections are something that are really cool to have, not just for our careers but for friendships," Bailey said.
Theatre arts freshman Chantel Branscomb said the living community is currently planning a showcase month, called the Maya 3 Arts Festival, coming up next month. The film and live performance festival will have singers and student films, as well as a dance performance by Branscomb.
"It's going to be a mish-mosh of everything that people take an interest in on the floor," she said.
Branscomb said the festival will be a representation of why the residents live in the learning community and why they love to be in the arts.
Art continues here
San Diego State offers a variety of art programs providing students with a unique opportunity to grow within their own definitions of art.
Although art is conceptualized differently at different schools, each emphasis comes together to create one cohesive message plainly seen by the student body: Art is what a student makes it.
Following in her father's footsteps, theatre performance junior Emma Faulkner has advanced from make-believe to real life, always finding a place to perform from an early age.
"The excitement of live theatre is something near and dear to my heart," Faulkner said. "It allows you to use that childlike innocence and imagination to suspend your beliefs into a different world."
Faulkner enjoys digging deep into anything and everything theatre, from its history to the strategies of its actors.
"Every relationship in theatre is specific and unique," she said. "You have to be open to other actor's ideas and accept that their ideas may be better or more applicable than your own."
The theatre program gives Faulkner an opportunity to hone her craft and create her own definition of art.
"Being a theatre performance major has been a whirlwind, but I can create in an aspect I love most," she said.
After the idea to create a high school newscast went rogue, film production senior Dave Wilwayco has never looked back — although he's met several challenges along the way.
"The biggest challenge of being a cinematographer is translating visuals from the script," Wilwayco said. "You have to translate the emotions people experience collectively as an audience subtly."
Throughout his time at SDSU, Wilwayco has done almost everything, from filming in a helicopter to filming abroad in Nicaragua and the Philippines.
"It's crucial to learn how to collaborate effectively and understand everyone," he said. "You have to be able to trust other students' talents."
Wilwayco looks forward to the future after graduation.
He knows the professional connections he has made throughout his time at SDSU will help him achieve his goals.
"I'm not even done with my last semester and I've already done so much at this school," he said. "I'm so grateful for the opportunities I've received."
From an early age, dance senior Sulamita Panduro couldn't imagine doing anything except performing with a professional dance company.
"Some dancers love teaching or choreographing but my passion is performing," Panduro said. "Being under the lights onstage gives me this indescribable feeling in life. I can't compare it to anything else."
Panduro appreciates the small size of the department.
She said it allows her to build meaningful relationships with professors and other dancers, who support each other throughout the length of the program.
"The dance department has been more than just my professors and peers, it's been my family," she said. "My experience here has really helped me find my individuality."
Throughout the years, the dance program has steered Panduro into becoming the dancer she has always dreamed of being, but more importantly, allowed her to do something she loves every day.
"Not everyone gets the opportunity to be in their body enjoying their passion like I do," she said.
For painting and printmaking junior Troy Guard, the decision to major in art was instinctive, although his instincts have changed through the years.
"When I first started getting into art, I supposed it was more about pretty pictures," Guard said. "Over time, it became more about creating something that had a message."
Guard consistently raves about the faculty.
"Professors blow me away with their ability to out-think me," he said. "Sometimes you can be surprised when you figure something out, but someone else comes and shows you a better way that you were not able to see initially."
Although Guard is excited to be involved in large on-campus collaborations, he looks forward to traveling the world.
"I want to see what my art takes on in another cultural setting," Guard said.
For a girl who loves all things beauty, the decision to pursue theatre design was stress-free for junior Crystal Williams.
"The design program requires a lot of work and pushes your limits," Williams said. "But in pushing your limits, it prepares you for your professional life."
Although the theatre design program has several challenges, Williams has experienced nothing but positivity over the years.
"Everyone from staff to students is so helpful and encouraging within the department," she said. "There's so much talent in the department and I am just lucky to be completely immersed in it."
In pursuing theatre design, Williams has a place to let her imagination run wild.
Eventually, this led her to realize her true passion of costume design.
"My favorite part of theatre is being able to see a costume or wig I helped create come to life," Williams said.
More than anything, Williams looks forward to getting paid to dress up.