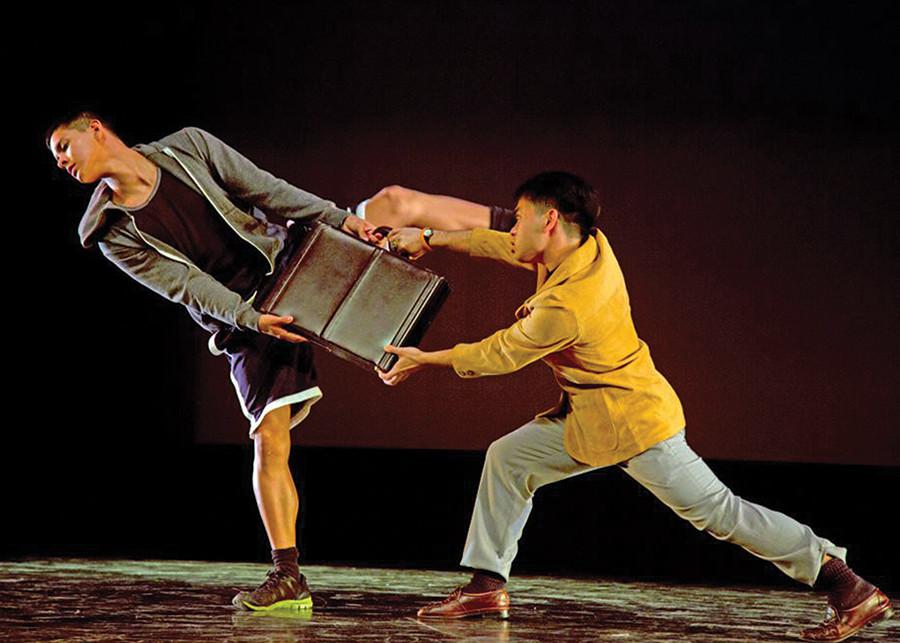 Courtesy of Edrian Pangilinan
Dance junior Edrian Pangilinan only joined his middle school dance program to be in the same class as his girlfriend at the time. Although that relationship ended, Pangilinan's relationship with dance had just begun.
Pangilinan views dance as a medium through which he can let go of his shyness and express the hero within him.
"I'm very passive-aggressive and peaceful, but when I dance, I feel powerful," he said. "I feel like I can be really brave and courageous."
Eventually, dance became his calling.
Pangilinan choreographed for the San Diego Young Choreographers showcase in 2013. He and a friend choreographed a piece using his wheelchair-using dancer friends who always dreamed of performing on a public stage.
Working on this piece made Pangilinan realize he could use the form of movement to make a difference in the world.
The piece centered on the liveliness and diversity of public transportation in San Diego. At the time, Pangilinan could only afford to use public transportation to commute around the city and he wanted to portray the different people from the different walks of life that he encountered on the bus or trolley.
For a while, he struggled to find his voice in the dance community and convince people to take him seriously as a performer and choreographer. Once he worked on the piece with his dancer friends, he found the courage to stand up for himself, and everything fell into place.
"Around this time, I realized that I am me, and that I shouldn't try to be like anyone else," he said.
Pangilinan said his biggest accomplishment was creating his dance documentary, titled "This is My Reality (a docu-DANCE-ry)." He asked his friends about the biggest social injustices they have faced and used the interviews to portray their problems through dance. Because of his involvement in the LGBTQ community, he feels a responsibility to speak out about social injustices.
"I felt like I was so focused on my own problems that I failed to recognize that there is a bigger world around me and there are bigger issues beyond me," he said.
Pangilinan has been part of multiple high-caliber productions.
He was in The San Diego Trolley Dance in 2012, 2013 and 2015, an annual event hosted by the San Diego Dance Theater in which 50 dancers are hired every year to create a production of site-specific work.
He was also a part of two different San Diego Fringe Festival productions. The first production, "Victor Charley" in 2014, won an award for audience favorite and a top-seller award. The second production in 2015, called "Hip Hop Cabaret," won Most Astounding Production.
Despite all of his success within various dance communities in San Diego, Pangilinan has finally found a family in the dance department at San Diego State.
"I feel like I've become more intellectual as a dance-maker," he said. "I feel like my ideas are now actually being supported and encouraged as opposed to being told to follow general dancing. I appreciate the dance community here. We're tiny, but it's very intimate. I feel like we're a family."
"I think (Pangilinan) is a really committed dancer," dance senior Mario Jaimes said. "He has so much to offer and give to the program, and he's only been here for three months. He's already doing so much for us and he seems so excited to just dive in and learn."
Pangilinan's ultimate dream is to travel the world and choreograph dances that portray social injustices.
"In regards to creating choreography, my focus has always been to try and speak out about something," he said. "I feel like in that way, I'm able to have more power towards making my voice heard."
Pangilinan never meant to take up dancing, but his involvement in the dance community has changed his life for the better.