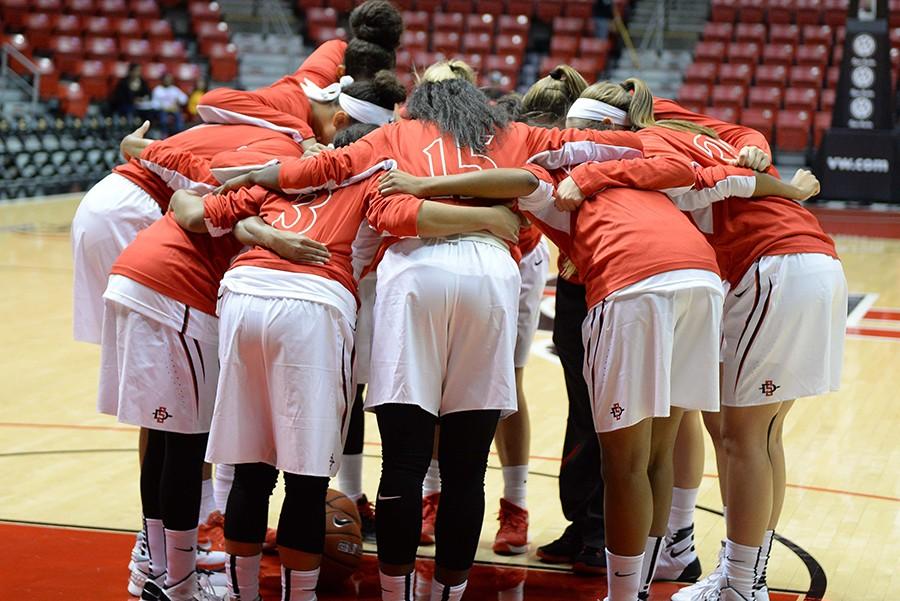 Cristian Rangel
The new year hasn't been kind to the San Diego State women's basketball team.
After finishing December strong with a record of 4-2 including three straight wins, the Aztecs have lost four consecutive conference games to open their 2016 campaign.
The team sits at 6-10 overall, 1-4 in conference play, and is ninth out of 11 teams in the Mountain West standings.
Dec. 19: 54-43 win against Cal State Fullerton
Following a 92-65 defeat to Loyola Marymount University the previous week, a dominant performance by sophomore guard McKynzie Fort and the Aztecs' defense helped the team regain its form.
Fort scored 22 points on 10-of-14 shooting and SDSU held Cal State Fullerton to 29 percent shooting from the field and 20 percent from 3-point range.
This was the first win in which the Aztecs led for the whole game.
Dec. 21: 60-25 win over San Diego Christian
Junior guard Kymberly Ellison led the team in scoring with 11 points in another stellar defensive effort.
San Diego Christian shot 16 percent for the game and was 1-for-16 from beyond the arc. Ellison was 4-of-8 from the floor and 3-for-7 from 3-point range.
Senior forward Deidra Smith and sophomore forward Lexy Thorderson each had 10 points and the team shot 42 percent for the game.
Dec. 30: 84-77 win at University of Wyoming
SDSU had its best game offensively when it needed to and beat Wyoming 84-77 to open conference play.
Fort scored 21 points on 8-of-11 shooting and senior point guard Ahjalee Harvey delivered a career-high 19 points, shooting 6-for-11 from the floor and 2-for-3 from 3-point range. The Aztecs shot 51 percent for the game and scored a season-high 84 points.
SDSU outlasted Wyoming despite a 27-point performance from Wyoming freshman forward Marta Gomez and double-doubles from sophomore forward Natalie Baker and senior guard Marquelle Dent.
Jan. 2: 55-36 loss to Utah State University
After a breakthrough offensive performance against Wyoming, the Aztecs took a step back and scored 36 points against Utah State on 19 percent shooting.
Harvey had a good game offensively, scoring 16 points on 50 percent shooting from the field and 4-of-8 from 3, but the rest of the team combined to shoot 6-for-52.
Jan. 6: 78-73 loss at San Jose State University
The Aztecs' Jekyll and Hyde offense took its toll in their 78-73 loss at San Jose State. The team shot 51.4 percent in the first half and scored a season-high 48 points.
Then the offense went cold — as in 22 percent from the floor and 25 points in the second half.
Fort led the scoring with 16 points and Smith and sophomore guard Geena Gomez each had 15 points.
Jan. 13: 60-57 loss against Colorado State University
SDSU fell short in its comeback bid against Colorado State, which was 13-1 overall and 3-0 in the conference coming into the game.
SDSU scored 18 points in the first half on 26 percent shooting and trailed 31-18 at the break.
The Aztecs took a 41-40 lead with nine minutes left in the fourth quarter, but CSU shot 9-of-13 in the fourth quarter and held on for the win. Fort led all scorers with 20 points and Harvey had another good game, adding 17 points to the tally.
Jan. 16: 75-45 loss to Boise State University
SDSU trailed 39-34 at halftime, scored 11 points in the third quarter and were shut out in the fourth quarter.
The Aztecs finished the game shooting 31 percent, but shot 12 percent in the second half and allowed Boise State to shoot 52 percent for the game.
Harvey led the way with 11 points on 3-of-12 shooting and Fort added 10 points, all in the first half, on 5-of-8 shooting.