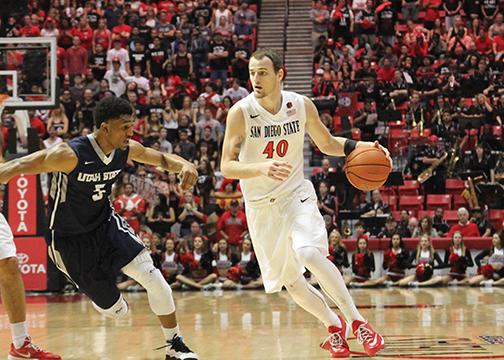 Kristian Carreon
It has been a long road for junior forward Matt Shrigley, who suffered an ACL tear in his right knee in July
However, his return is only a matter of time.
Shrigley was dressed and fully participated in pregame warm ups Tuesday against the visiting Fresno State University Bulldogs.
This was the first time the junior participated in warmups, and had a brace on his right knee over his tights. He appeared to be able to move without restriction, however, he was erratic with his shot, which is to be expected of a player who has not seen the hardwood in months.
Shrigley's progression has his teammates excited, as well.
"He is my roommate so I know everything about him," senior forward Skylar Spencer said. "He is just itching to come back out there and play. He was just so happy to suit up and I was happy for him."
This is not Shrigley's first time having to make a comeback from injury, as he suffered a broken bone in his left elbow in the Aztecs' exhibition against Point Loma last season, where he missed the first six games.
Shrigley was expected to sit out up to eight months to recover but with his appearance today and his ability to start controlled environment workouts last month, that timetable looks to be shrinking.
Malik No-Show
Sophomore forward Malik Pope headed into this match with what looked like new found confidence in his game as he averaged 10 points on 58 percent shooting over his previous three games.
That confidence quickly dissipated against the Bulldogs.
He ended the night 0-for-5 from the field, 0-for-3 from beyond the arc and tallied two turnovers to offset his three rebounds in 20 minutes of action. A little look deeper and the stats only get worse for Pope, as the Aztecs were minus-11 when he was on the court, the worst of any SDSU player.
By the end of the night it was clear that Pope lost confidence in his shot and the Fisher lost confidence in the sophomore, as Pope did not record a single minute in overtime.