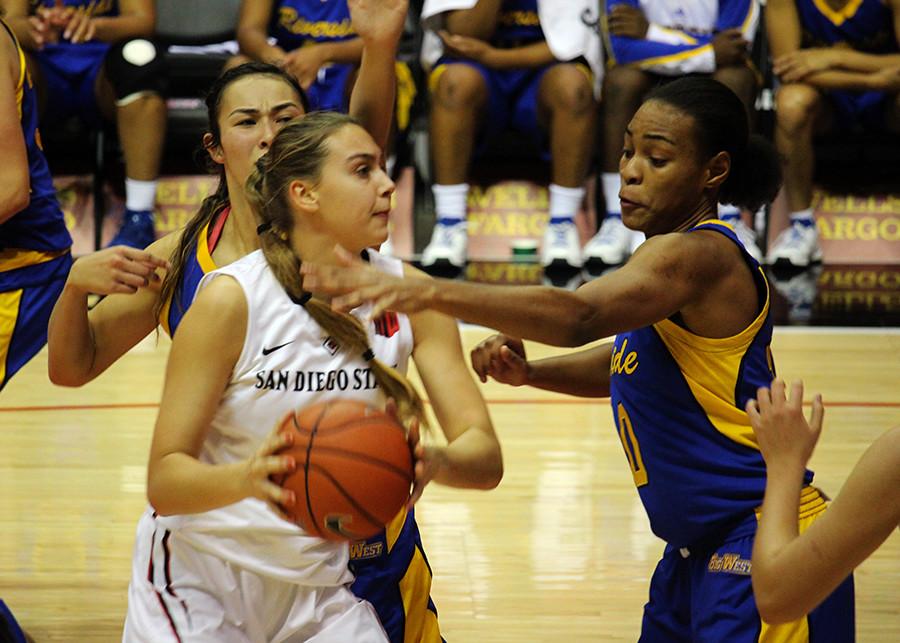 Calvin Embleton
Twenty-six days into January and the San Diego State women's basketball team is still trying to find the form it finished with in December.
The Aztecs have doubled their loss total in the last month and now sit at 6-12.
Good news is they are facing a University of Nevada team (3-15, 2-9 Mountain West) that has lost seven of its last nine.
SDSU has experienced a sharp offensive decline in the new year. In December the team averaged 63 points a game, but that average has dropped to 53 points a game in January.
Despite the decline SDSU averages more points a game than Nevada and gives up three less points per game to opponents.
"I think we just need to pick it back up and find the fire in the team," sophomore point guard McKynzie Fort said last Tuesday. "Everyone needs to be confident in their shooting and look to attack."
Fort averaged 11 points a game in three matchups with Nevada last season and is averaging 14.5 points a game this season, which ranks sixth in the MW.
The Aztecs have been facing a zone defense against most of their opponents because of their struggles from beyond the arc. Currently shooting 28 percent as a team, SDSU is ninth out of 11 teams in the MW for 3-point field goal percentage.
However, the Wolf Pack shoots just 26 percent from 3-point range so the Aztecs could look to play zone as well.
SDSU does boast the third-best turnover margin in the conference at plus-1.56 and Nevada gives up the second-most turnovers in the conference.
Nevada is led by senior forward Nyasha LeSure, who averages 13.8 points and 6.3 rebounds a game, and junior guard Stephanie Schmid, who averages 10.4 points and 2.6 rebounds a game.
Both teams have wins over University of Wyoming, which is ranked eighth in the conference, and Nevada has an additional win over Air Force Academy, which is ranked dead last.
Nevada is coming off of a six-point loss at UNLV when it scored 28 points in the fourth quarter. SDSU has had trouble closing games this year and has been outscored 286-264 in the fourth quarter.
The Aztecs split the season series against Nevada last year before blowing it out 70-46 in the conference tournament.
The current six-game losing streak is the longest in head coach Stacie Terry's three-year tenure at SDSU.
The Wolf Pack is winless on the road thus far and the Aztecs have four of their six wins at home.
Tip-off for Wednesday's matchup between SDSU and Nevada is set for 6:30 p.m. at Viejas Arena.