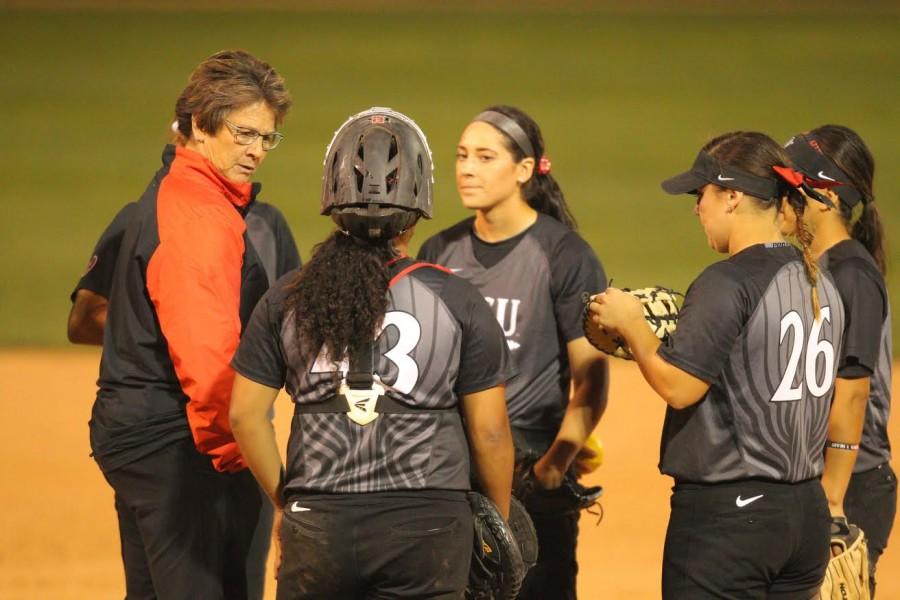 SDSU Athletics Media Relations
More than 1,000 games into her coaching career, San Diego State softball head coach Kathy Van Wyk's goal still hasn't changed.
Despite taking her team to the NCAA tournament a school-record eight consecutive times, and 11 out of the last 15 years, the coach entering her 20th season isn't done.
"I want to go further than (NCAA) Regionals, I want to go to (NCAA) Super Regionals and the College World Series. That's what I have always wanted and it's what I have always preached to these kids," Van Wyk said. "That's the goal and that's what keeps me coming back and thinking we can always improve."
Van Wyk has turned a program that didn't make the NCAA tournament in its first 20 Division I years into a perennial contender at the tourney.
In the 20 years before Van Wyk was head coach, the Aztecs had two winning seasons.
In her 19 years at the helm of the program, Van Wyk's teams have had 17 winning seasons.
"Part of it was I had to change an attitude about the game that wasn't just in the players — it was in the administration, it was in the people in the weightroom, it was in the trainers — because I took it seriously and I don't think anyone before really had," Van Wyk said.
A big turning point for the program came in 2001 when the team came within a game of heading to the College World Series.
The Aztecs lost 11-0 to UCLA in the regional championship game and current assistant head coach Stacey Nuveman Deniz was the catcher for UCLA at the time.
Nuveman Deniz graduated from UCLA in 2002 with the program record for most career home runs at 90 and she won two gold medals (2000 and 2004) and a silver medal (2008) with the U.S. Olympic softball team before joining SDSU softball's staff.
The offense has improved incrementally since Nuveman Deniz joined the staff and the Aztecs set school records in batting average (.312), slugging percentage (.486), runs (324), home runs (63), RBIs (293), total bases (758) and hits (484) last season.
Assistant coach Mia Longfellow was a four-time all-Pac-10 selection at Oregon State and is entering her seventh season coaching the infielders.
"So much of the success we have been able to garner the last few years has been because of (the coaching staff)," Van Wyk said. "It really has, and I feel like we have a complete and experienced staff."
Van Wyk primarily works with the pitchers and she was quite the pitcher herself, having posted the best all-time win streak of 33 games during her 1982 season at Cal State Fullerton.
She also threw two back-to-back perfect games that year.
"I'm very hands-on with the pitchers," Van Wyk said of her coaching style. "At the same time I think I spell out my expectations with them and then I like to let them go."
She grew up in Holland, Michigan, playing softball, basketball, baseball and football with her older brothers in the backyard. She played three sports in high school before deciding softball was her favorite.
Van Wyk played softball for three years at Texas Women's University before the college decided to cut the program before her senior year.
She then transferred to CSUF to finish out her playing career and was asked to stay on at Fullerton as the pitching coach after she graduated.
"I could tell by the way I studied the game and the feeling I had," Van Wyk said about becoming a coach. "I was always a cerebral-type player.
She said it's always a challenge coaching a new group of student-athletes because they stay the same age while she is always getting older, but she loves to see the players develop.
"Seeing growth in some of these young ladies, it makes me get teary-eyed," Van Wyk said.
"There have been kids here who you never hear about — who would never be an All-American, who would never be a scholar athlete, but they got a degree because of this sport and they never would have if it weren't for this sport."
The Aztecs start their quest to reach the College World Series on Friday, Feb. 12, with a doubleheader against Canisius College and CSUF.