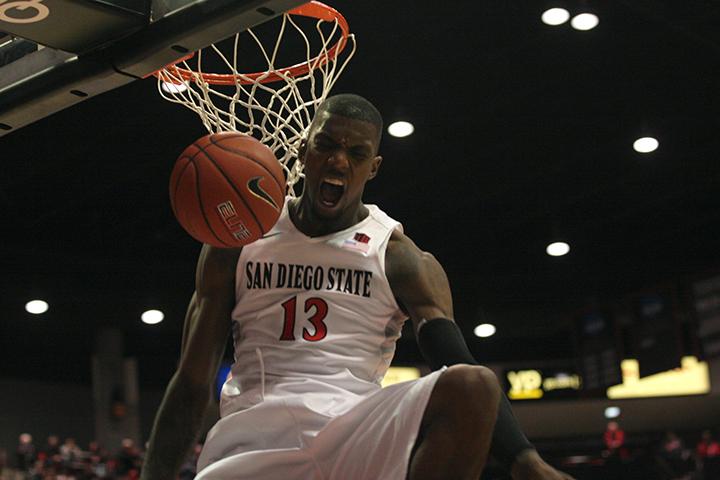 Kelly Smiley
It wasn't pretty. It wasn't efficient. At times it was hard to watch.
But none of that mattered for the San Diego State men's basketball team Tuesday night, which for its 10th straight game had to fight and claw for 40 minutes as another match was far from decided in the waning minutes against Colorado State.
And for the 10th straight game, the Aztecs wound up on top, this time at 69-67, tying the 2013-14 school record for most consecutive victories to open conference play.
"Colorado State is a good team," head coach Steve Fisher said. "They made a lot of open shots. They made a lot of hard shots. They're tough-minded."
For the Rams those shots came few and far between when it mattered most and were unable to hold on to any type of momentum, especially in the second half, which saw both teams not able to take anything more than a two-possession lead. And as has been the case all Mountain West season , this game came down to the wire for the Aztecs, as the Rams had the opportunity to tie the game on their last possession.
But just like all conference season none, none of that mattered. The patented Aztec defense rose to the occasion and halted the CSU upset.
The defense should be looking to receive a gold star from Fisher for at least the final 2:51 seconds, as the Aztecs held the Rams scoreless from the field and allowed only two points from the free-throw line.
"If we are going to win in this league we have to make you take hard shots and make stops and we'll have a chance and I thought down the stretch we did," Fisher said. "We made them take difficult shots  and we had to have it to win.
"We had to have a play in those stretches to make stops to win and put ourselves in position to win."
However, per usual Aztec (17-7, 10-0 MW) fashion,  it took a huge second-half team effort to hold off the opposition with the usual "big three" stepping up offensively for SDSU.
Senior forward Winston Shepard scored 10 of his 14 points in the second half and was a vocal leader out on the court, screaming to his teammates to play with more energy.
"Sometimes on the road to championships, it's tough," Shepard said. "If we lose nobody says, 'Oh, I feel sorry for them,' so we just have to go out there and keep doing what we do."
And what they have been doing is relying on the backcourt duo of freshman guard Jeremy Hemsley and sophomore guard Trey Kell, who stepped up once again in this matchup and combined for 19 points in the second half on some timely shots to stave off the persistent Rams.
The trio ended the game leading the team in all major offensive categories.
Kell had  a game-high 19 points, Shepard ended with a game-high nine rebounds (four offensive) and Hemsley led the Aztecs with five assists.
But more telling of the Aztecs' success was their domination in the paint and on the boards, as they held a 40-18 edge in points in the paint and out-rebounded the Rams 38-28.
This game seemed like it could be a blowout early, as the Rams pulled out to a 25-15 lead and had the momentum and, more importantly, dictated the tempo of the game.
With 8:16 left to play in the first half the Rams were shooting a mind-boggling 52.6 percent against a team that ranks first in defensive scoring percentage, at 36.1 percent, and was 5 for 10 from beyond the arc.
From that point forward until the end of the half the Aztecs went on a 17-3 run and forced the Rams to finish the half 0 for 13 from the field, with all three of the Rams points coming via the charity stripe.
"That's how you want to play and have stretches and it was created in no small part by us," Fisher said. "We guarded like crazy and if that happens for you they have to miss shots."
Despite the loss the Rams have proved that SDSU's defense can be bent at home as they shot 42.9 percent from the field, the best for an opposing team this season.
Which at least CSU head coach Larry Eustachy can hang his hat on.
"I think we should be extremely disappointed (with the loss)," he said. "I think we were anxious to play a really good team. We aren't going to do what we want to do this year, but what I loved was that we played the best half this team has played all year long."
The Aztecs will take on University of New Mexico this Saturday, Feb. 6, at 1 p.m in Viejas Arena.