CSU system considers tuition increase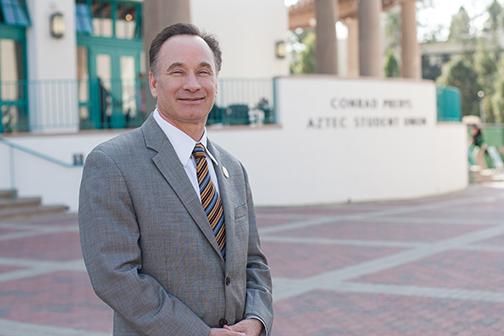 Tuition increases, the possibility of a faculty strike and academic goals were among the issues discussed in a California State University student press conference on Friday, Feb. 5.
The student press conference was held shortly after the CSU Board of Trustees meeting at Long Beach State Jan. 27-29.
A CSU budget task force has recommended to the board that slight, inflation-based tuition increases be implemented in the next few years.
The task force, which was created in 2014 and consists of students, faculty, trustees, provosts and others including San Diego State President Elliot Hirshman, reported that the CSU system's current financial model is unsustainable.
Some of the factors cited for this are recession-era budget cuts that have yet to be reversed, increasingly impacted campuses and majors, workforce demands and deferred maintenance.
Tuition increases, which CSU Assistant Vice President for Budget Ryan Storm said would be tied to inflation, are just one of several recommendations the task force made.
The task force proposal reads, "The CSU should consider predictable and incremental adjustments to tuition and fees that maintain purchasing power in the face of inflationary increases over time."
The proposal also makes the claim that, thanks to limitations in state funding, the impact of inflation will lead to the university's costs exceeding the revenues if tuition is not increased.
The task force also recommended converting current tuition discounts for students to grants, and transferring a set amount of funds  to individual campuses for each additional full-time student enrolled.
Potential faculty strike
CSU Public Affairs Director Toni Molle said the CSU system values its faculty, but acknowledged the possibility that both parties may not be able to come to an agreement on salary increases, opening up the possibility of strike activity later in the spring semester.
Molle said classes will still be held in the event of a strike.
Should the strike happen, students are advised to check with instructors on the status of their classes.
The CSU has also set a number of key academic goals for the next 10 years, said Nathan Evans, CSU chief of staff for academic student affairs.
The system's 2025 targets are to increase the six-year graduation rate to 60 percent, the four-year graduation rate to 24 percent, and to decrease achievement gaps by ethnicity and Pell Grant eligibility.