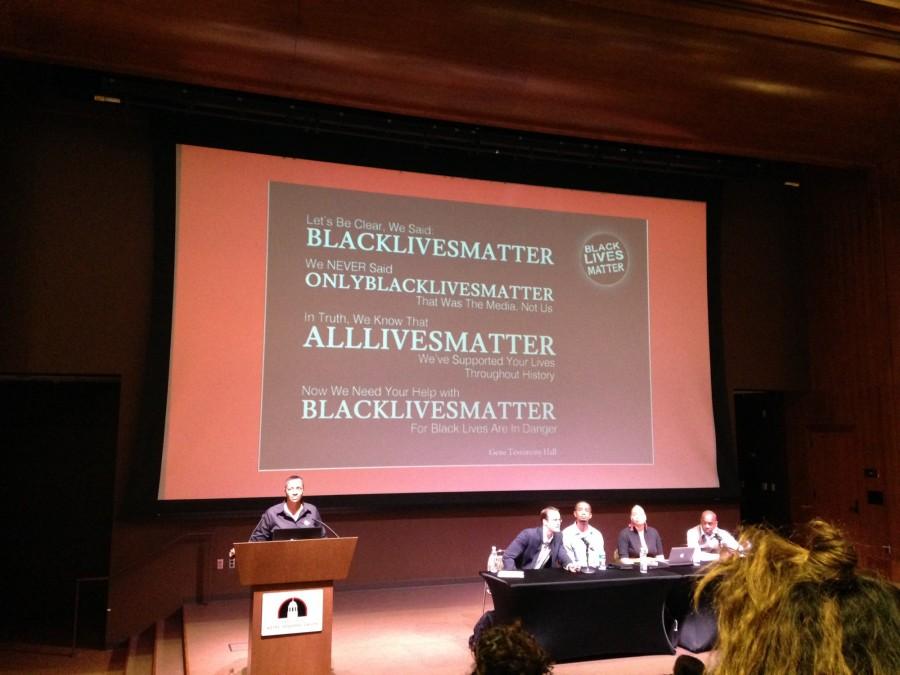 Will Fritz
The line was out the door on the night of Tuesday, Feb. 16 as students waited to get into the Black Lives Matter panel in the Conrad Prebys Aztec Student Union.
The event addressed the Black Lives Matter movement and how it affects people both locally and on a wider scale.
The four faculty on the panel were Dr. Luke Winslow from the communications department, Dr. Paul Minifee from rhetoric and writing studies, Dr. Antwanisha Alameen-Shavers from Africana studies, and Dr. Frank Harris III from the Center for Educational Leadership.
All four faculty members also serve as faculty-in-residence for residence halls on campus.  Dr. Tita Gray from the business administration department served as a moderator for the event. Minifee, Alameen-Shavers, Harris and Gray are all African American, while Winslow is white.
Harris said while race "doesn't exist", and is simply a social construct that seeks to divide people, many African Americans have to deal with the very real effects of racism every day, whether explicit or implicit.  He referred to several studies showing that African American youth are looked upon differently by their teachers "as early as preschool."
Gray agreed, saying that she was treated differently by other faculty when she first began teaching, and that although she is willing to give other faculty "the benefit of the doubt," she felt that one of the reasons for this treatment may have been because of her race.
Another issue discussed on the panel was some of the cultural backlash to the Black Lives Matter movement.
Winslow said the Black Lives Matter movement must come up with a response to the question "don't all lives matter?" He said this question is a "wonderful example of adventures in missing the point," and that the Black Lives Matter movement was founded to draw attention to the fact black lives matter just as much as other lives, not to assert that black lives matter more than other lives.
Another issue discussed during the panel was the matter of keeping African American students in the higher education system.
"We must start with the premise that these institutions weren't created for black students to begin with," Minifee said, but went on to say black students must fight back against institutional racism by trying their very best to establish themselves within higher education.
Alameen-Shavers said one of the main issues keeping African Americans from participating in higher education is tuition costs, and said the school needs to "lower tuition, period. There's no getting around that."
"This school is a business," she said, adding that the only way to enroll more African American students, who tend to come from lower-income backgrounds, is to lower tuition costs.
The panel also discussed how the Black Lives Matter movement is portrayed in popular media.
Winslow said the mainstream media "is a bastion of white supremacy" that seeks to paint Black Lives Matter in a negative light.
Gray said students should "stop watching the media" and instead "go to an alternate news site."
Alameen-Shavers took this aspect of the conversation further, saying the media is not telling stories about black women, and that this is because of power structures inherent in the black community, and indeed in all communities.
She said our society is unconcerned with the importance of black male lives, and even less concerned with the importance of black female lives. Because of this, she said it is important to be aware of one's own complex advantages and disadvantages in the social hierarchy, saying that as she is a "heterosexual black female" she has certain social characteristics that are considered desirable by society, as well as others that are not.
She said one must not perpetuate this social hierarchy and the only way to stop discrimination against oneself is to stop discriminating against others.
Harris also said that the only way for people of other races and backgrounds to stop the pattern of negative prejudice toward African Americans is by being "proactive in establishing relationships with Blacks" as many whites have few or no black friends.
The panel discussion was part of a series of events honoring Black History Month. Other upcoming campus events include "Feminist Food for Thought: Black Feminism(s)" which is at 1 p.m. on Feb. 19 in the Pride Center, and "Transforming Conflicts into Solutions" at 4 p.m. on Feb. 24 in the Love Library Room 430.