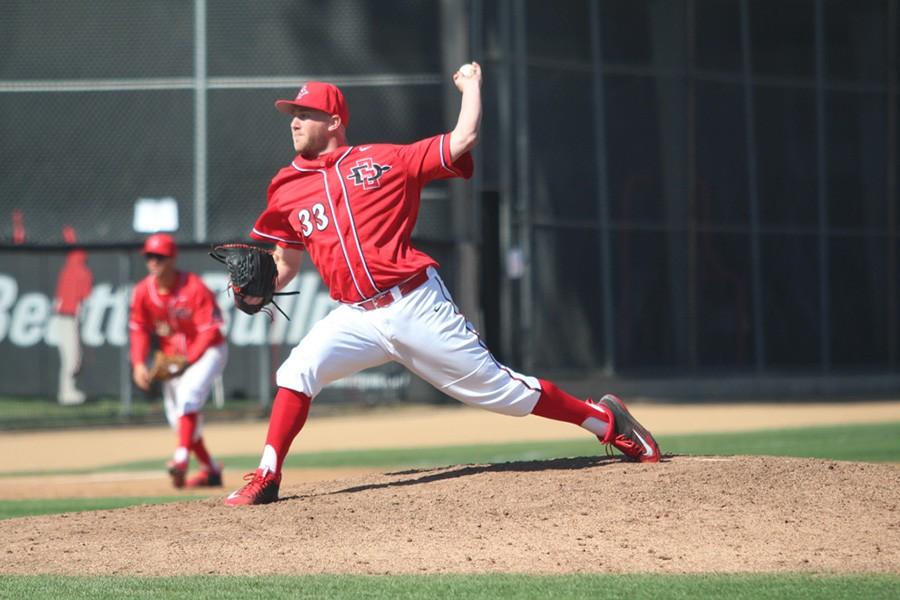 Kelly Smiley
San Diego State baseball has already suffered its first series sweep of the young season after a 4-3 loss at the hands of No. 14 University of Oregon Sunday afternoon at Tony Gwynn Stadium.
In front of a predominantly Oregon crowd, the Aztecs saw a tie game turn into a deficit in the 8th inning or later for the second time in the series.
"Close is not good enough," SDSU head coach Martinez said. "We're very dissapointed with the outcomes of all three games. We beat ourselves."
The first run of the game came on a solo home run off the bat of  Oregon sophomore catcher Tim Susnara.
The second-inning shot to right field was Susnara's first RBI of the season and the first homer of his college career.
The Aztecs tied the game up with a one-out run in the fifth inning.
Redshirt-junior catcher CJ Saylor drove in junior designated hitter David Hensley on a throwing error by sophomore second baseman Daniel Patzlaff, giving Saylor his first RBI of the season, and tying the game up, 1-1.
The game stayed tied until the top of the eighth, when sophomore left fielder AJ Balta took a first pitch fastball from junior reliever Dominic Purpura and deposited over the fence, driving in three runs to give the Ducks a 4-1 lead.
It was the second time in the series that Oregon broke a tie in the last two innings of the game.
The next frame, the Aztecs responded by closing the deficit to 4-3 on a two-run homer by redshirt-senior left fielder Spencer Thornton.
Hensley struck out swinging on a 3-2 off-speed pitch with a runner on second base, ending the 8th inning, the SDSU rally and ensuring the win for Oregon.
Thornton feels optimistic about the team moving forward, even in the midst of an 0-3 start.
"We're a couple of small adjustments away from winning two of these games," he said. "Improving communication in the outfield, infield work, just small adjustments that we can work on in practice."
Senior right-hander Brian Heldman recorded the loss, his first of the season, after 2/3 of an inning on the mound.
Junior left-hander Brett Seeburger commanded the mound – and Oregon's lineup – in his first start of the season, allowing only one run and striking out five in 5 and 1/3 innings.
Oregon's starter, sophomore David Peterson, pitched five innings and gave up one run on four hits.
Part of the success of the pitchers early in this game was the defenses behind them.
For two consecutive outs in the top of the seventh inning, SDSU infielders made athletic plays on line drives to save base hits, securing the 1-1 tie.
In the previous inning, redshirt-sophomore right fielder Tyler Adkison made a diving catch on a ball hit by A.J. Balta.
Coach Martinez is already looking ahead.
"It's not how you start, its how you finish," Martinez said. "And in our recent history, we're finishers. We have to iron out the little things, but we match up with anybody, it's just a matter of executing on defense and offense."