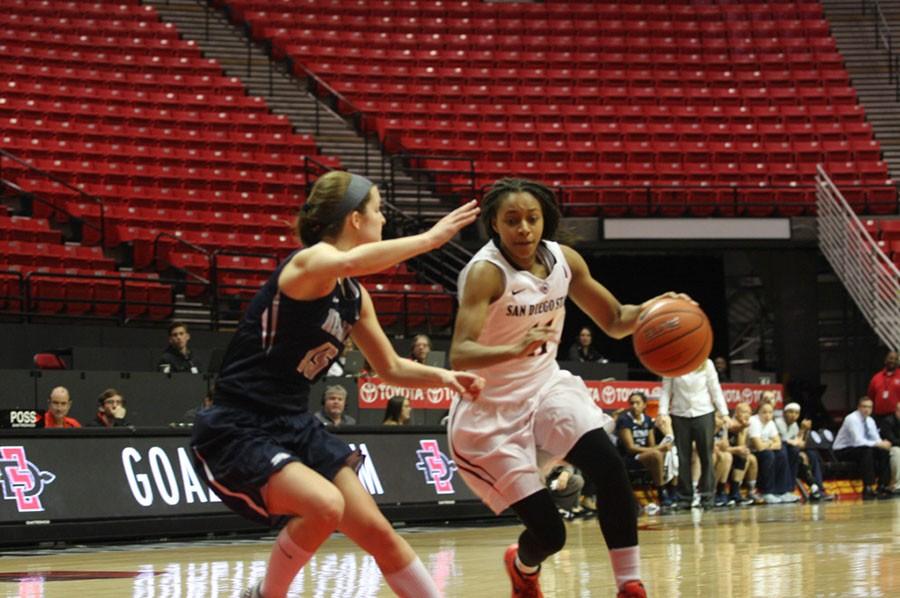 Kelly Smiley
The mantra of college basketball in the month of March is "survive and advance." On Monday afternoon, the San Diego State women's basketball team accomplished that mission, defeating University of Wyoming Cowgirls 62-44 in the first round of the Mountain West Tournament.
The victory marks the third time the Aztecs defeated the Cowgirls this season. SDSU won both regular season meetings against Wyoming, outscoring the Cowgirls a combined 137-117.
SDSU dominated Wyoming near the basket, scoring 30 points in the paint to the Cowgirls 22, as well as controlling the rebounding category 39-34.
The Aztecs achieved a wire-to-wire victory and stretched its lead to an even 20 late in the fourth quarter by outscoring the Cowgirls 17-5 in the same frame to put the game out of reach.
Sophomore guard McKynzie Fort continued to be the Aztecs' biggest scoring threat, finishing with 17 points, three rebounds and one assist.
Senior forward Deidra Smith added 13 points and seven rebounds.
Junior guard Ariell Bostick also chipped in with nine points, eight boards and five assists.
Wyoming senior guard Marquelle Dent paced the Cowgirls with 13 points on 6-of-20 shooting, including her 0-for-4 mark from long range.
The Cowgirls were held at bay to only a 31-percent shooting performance from the field overall, well below their season average of 40 percent.
SDSU will move on to the quarterfinal round to take on top-seeded Colorado State at noon on Tuesday, March 8.
The Rams went undefeated in MW play this season and are currently ranked No. 22 in the nation by the Associated Press with a 28-1 overall record.