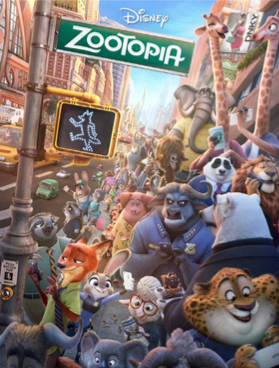 Courtesy of Allied Integrated
Disney jumps back into the wild with its new feature film, "Zootopia," a tale of animals of all different shapes and sizes in a big city where the motto is "anyone can be anything."
Professor Sam Shpigelman's Cinema as Art and Communication class got to learn about "Zootopia" and Disney Animations during a presentation by Disney's environment look supervisor Lance Summers on Monday, Feb. 29. Students saw sneak peeks of different scenes before the release of the new Disney animated film.
"Zootopia" tells a story about how two ancient enemies, a rabbit and a fox, become friends and change their viewpoints as they work together in a modern-day city.
"One character thinks we are who are and we'll never change while the rabbit is super optimistic," Summers said. "When they come together, they figure out that, yes, we are who we are, but anybody can change."
Summers' favorite scene he worked on in the film is the train-ride sequence that unveils the art of the grand environments when the rabbit is moving to the big city.
"It showcases all of the different worlds, which is really cool," he said. "We like to have these grand showcases like we had in 'Big Hero 6' with the first flight with him jumping off the San Fransokyo Bridge, showcasing the city."
Summers brings many scenes to life from artwork designs to the big screen.
He earned a bachelor's degree in computer science at Full Sail University. He got hired with Disney six months later in 2009 after sending in his artwork and his animated journey with Disney Animations began.
His first stop was in the talent development program where he learned many new valuable ideas about the industry and technology as a recent graduate. During that time, he started on the animated short film "Tick Tock Tale."
Summers landed his first feature in Disney's charming fairytale "Tangled" as a look development artist. He worked on characters and environments and got to touch up a lot in the world in the film. After "Tangled," he also worked on stereoscopic work for "The Lion King 3D" and animated in the arcade-game hopping hit "Wreck-It Ralph."
"I got a lot of cool environments and I love ('Wreck It Ralph')," Summers said. "Then, it was time to start on 'Frozen.'"
Summers' favorite project so far has been "Frozen."
"We didn't anticipate its popularity," he said. "We didn't know ('Let It Go') was going to be a hit, but it did, so it's pretty amazing."
In "Frozen," Summers brought many pieces of artwork to life on the icy set as the lead look artist. His work includes the ice place and each individual environment in the scene of the comedic, loveable snowman Olaf singing "In Summer."
"I love Disney films because they target all kinds of audiences," television, film and new media production sophomore Alexis Best said. "Disney movies have unique qualities that make them relatable to anyone who gets the pleasure to watch them."
Summers has been evolving and growing with Disney throughout the years.
"I got in right when it was starting to change and I kind of just went through the changes that Disney was going through," he said.
Although it can be a challenge, Summers said working for Disney does not feel like a job. The collaborative team dynamic at Disney is one favorite thing that makes working for Disney exciting for Summers.
"No one person can solve a problem, so everyone is there for everyone else," he said. "It is a very collaborative work environment so that makes it really pleasant to be in."
"Zootopia" was released in theaters March 4 and set a new record as the biggest opening in Disney Animation history.