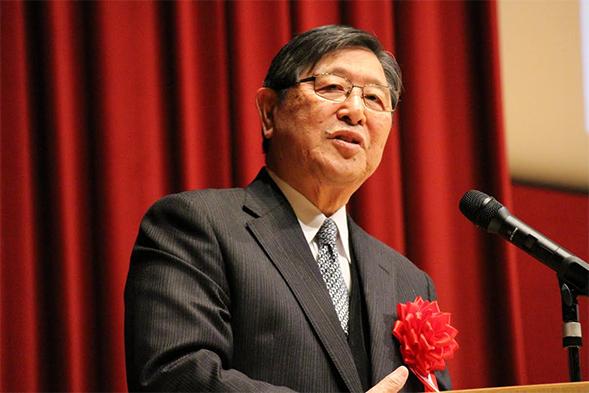 Chemist Toyoki Kunitake was the first in the world to discover synthetic bilayer membranes. For his accomplishments in science, he won the 2015 Kyoto Prize — a prize presented by the Inamori Foundation and next to the Nobel Prize as Japan's highest private award for global achievement — in the area of advanced technology for his discovery.
As part of the San Diego Kyoto Symposium, San Diego State has the honor of hosting a lecture by Kunitake on Wednesday, March 16 from 10 a.m. to 11:30 a.m. in Montezuma Hall. The event is free and open to the public, but registration is required.
The San Diego Kyoto Symposium is a three-day celebration of the lives and works of the Kyoto Prize winners. The symposium features lectures by esteemed scholars in fields such as basic sciences, advanced technology and the arts and philosophy. SDSU, University of San Diego and Point Loma Nazarene University and UC San Diego will host the symposium jointly with funding from the Inamori Foundation and supporters.
Kunitake's lecture and scientific contributions aims to inspire student attendees by teaching them the importance of advancing science and creating more technology for the betterment of society.
"Many new problems appear as we solve some of the problems we face," Kunitake said in the press release. "To maintain proper scientific and technological literacy is essential for the new generation to survive in the future and to create a better world."
SDSU invited high school students in the Sweetwater Union High School District, Grossmont Union District and San Diego Unified to attend the symposium. Through its Compact for Success program, SDSU will introduce these students to the university and the idea of pursuing a career in science, technology, engineering and mathematics fields.
The symposium aims to inspire students who attend by providing an opportunity for the audience to learn about the achievements of the laureates and discuss their accomplishments in relation to the quest for peace and harmony.
Kunitake's goals include those of introducing students to science and technology.
"I am surprised and honored to receive the Kyoto Prize, as this is one of the foremost scientific awards," Kunitake said in an SDSU press release. "I strongly feel that I am obliged to convey the excitement and the responsibility of science and technology to the younger generation."
As part of the event, SDSU graduates are invited every year to compete for an Inamori Fellowship, which supports research in the fields of natural sciences, humanities and social sciences contributing to international understanding.
Each fellow receives a $5,000 scholarship.
SDSU Media Relations Officer Natalia Elko said applicants must have completed or planned reviewed work as well as at least two semesters remaining in their program. They must also have scholarly accomplishments, a training environment with time used to focus on research and a faculty mentor recommendation.