SDSU students attend International Women's Day March and Rally in LA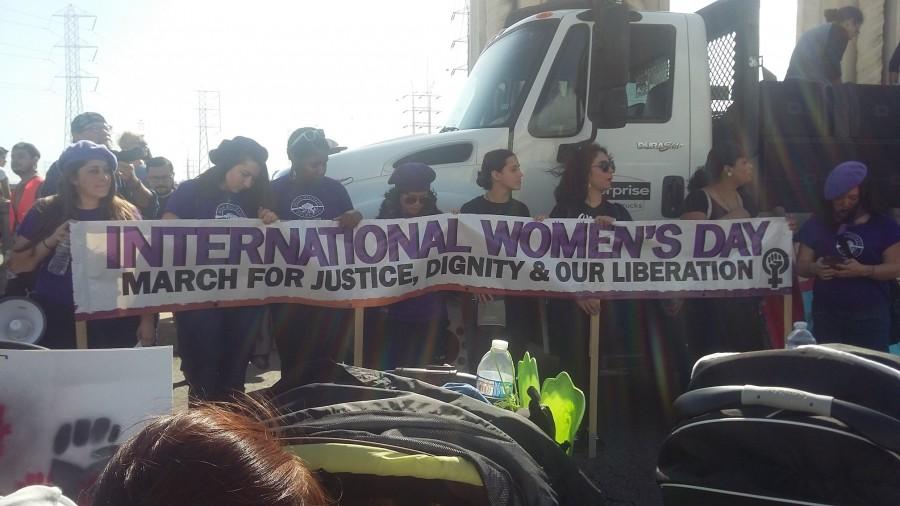 Several San Diego State students and faculty attended the International Women's Day March and Rally in Los Angeles on March 6, through the sponsorship of the Women's Resource Center.
Women's History Month celebrates and recognizes the achievements of all women through a countrywide International Women's Day March.
"We identified this as a really important intersectional event to bring students to, so we set the money aside from our programing budget to make it happen," Women's Resource Center Coordinator Jessica Nare said.
Intersectionality is the idea that people can experience oppression in varying ways, based on factors like race, gender, class, ability and ethnicity.
More than 20 students from various intersectional identities were bused from San Diego to downtown Los Angeles.
Nare said she had never been to an event that was so women-centered and intersectional. She said she found it inspiring and empowering to be around so many like-minded people in the community supporting a lot of the issues that she believes in, as well as issues that many students who come to the WRC believe in.
The march was organized and led by The Association of Filipinas, Feminists Fighting Imperialism, Re-feudalization, and Marginalization (AF3IRM) a transnational feminist organization.
The multi-rally event began in front of the Los Angeles Police Department Headquarters to make a political stance against police brutality, violence against women and other issues affecting women of color.
Although many of the demands made by the organizers pertained to women and people of color, individuals from various ethnicities, sexual orientations and ages came in solidarity.
At every designated stop of the march, speeches and performances filled the air as crowds cheered and rallied with signs on hand.
A sea of posters and the sound of echoing chants flooded the streets as attendees made their way toward the final stop of the march at the Cesar Chavez Bridge.
Women's studies senior and WRC feminist peer educator Queena Tran, who participated in the march, said she liked that the WRC provided a bus to the march because it allowed students to get involved in issues that affect them off campus.
"It was so powerful to see so many young babies there, they wanted all the moms and the kids to be in the front," Tran said.
"There were so many young people there, and getting the kids involved is so important."
The Women's Resource Center plans on participating next year in the International Women's Day March in Los Angeles.
The center is also hosting several campus events this semester. A screening of "She's Beautiful When She's Angry" is scheduled for 4 p.m. on March 17, and a hip-hop dance lesson with Dulce Arteaga is set for 3:30 p.m. on March 21.