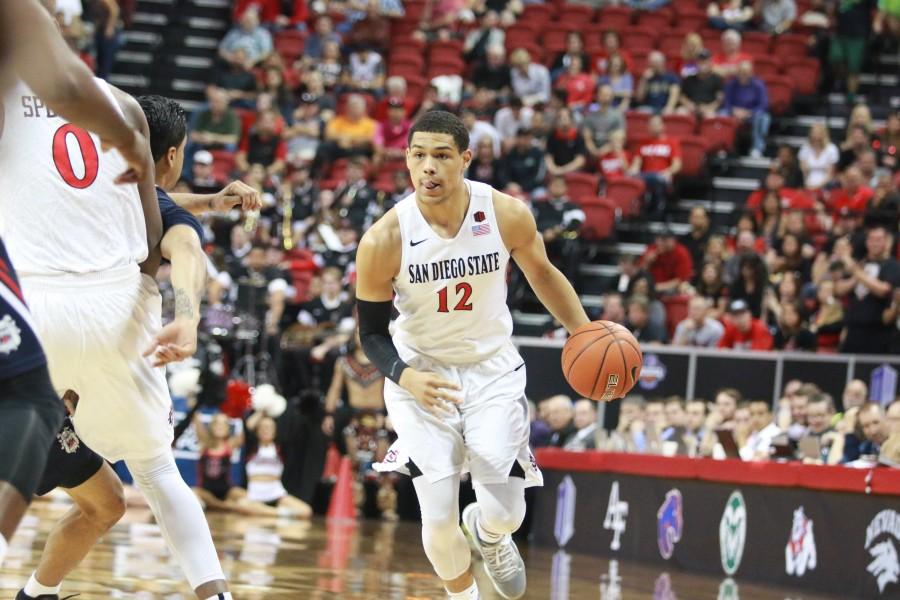 Cristian Rangel
What's in a name?
A deep question.
Perhaps a family's legacy, one's attempt to maintain hundreds of years of culture, a dark past rather to be forgotten or maybe just a lazy reworking of names to symbolize a merger between two universities in a certain location
Insert Indiana University – Purdue University Fort Wayne or the San Diego State men's basketball team's first-round opponent in the NIT tonight in Viejas Arena.
Now that the "Mastodon" has been addressed, let's look at the matchup between SDSU and IPFW.
The No. 7-seed Mastodons (24-9, 12-4 Summit League), like the No. 2-seed Aztecs (25-9, 16-2 Mountain West), were an automatic bid to the NIT after they won the Summit League regular season crown, but failed to win their conference tournament.
They would fall to North Dakota State in the semifinals, 69-68.
Despite the low scoring output against NDSU, the Mastodons' bread and butter is their skill on the offensive end as they averaged 80.2 points per game, which is good enough for the No. 26 ranked scoring offense in the NCAA.
Their offense is paced by senior guard Max Landis who averages 19.5 points per contest. He is consistent to say the least, as he averages 45.7 percent shooting from both inside and outside of the arc.
However, Landis and his team have yet to run into a bully of a defense like SDSU's this year and can be in for a rude awakening. The Aztecs scoring defense has allowed on average only 60.3 points per game and only five opponents to top the 70-point mark.
Throw in the quick turnaround and a 2,175-mile flight and it is not far flung to expect the Mastodons to not have their legs under them, at least, in the first half.
The winner will take on the winner of the University of Washington – Long Beach State matchup on either Friday, Saturday, Sunday or Monday.
Tonight's match starts at 7 p.m. and will stream exclusively on ESPN3 or can be heard on The Mighty 1090.
General tickets start at $10 and can be bought online at GoAztecs.com or in person at the Viejas Arena ticket office.