SDSU swim and dive coach says bye to best senior class he's ever had after NCAA Championships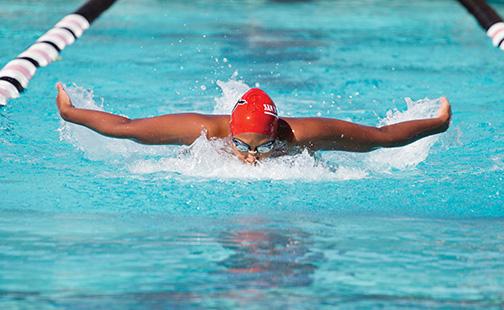 San Diego State senior Taylor Johnson placed 32nd out of 57 racers in the 50-yard freestyle last Thursday at the NCAA Swimming and Diving Championships in Atlanta, Georgia, that ran all the way through the weekend. 
However, the 32nd place wasn't good enough to secure Johnson, SDSU's lone competitor, a spot in the finals. 
"I thought she did a wonderful job," head coach Mike Shrader said. "She was in the top 1 percent of swimmers in the country all year long. And she absolutely deserved to be (at the national title meet)."
With her participation, she kept the streak of consecutive seasons in which an Aztec has been represented at the NCAA Championships alive at  seven in a row now.
"I truly believe she's the most improved swimmer of the year," Shrader said. "She continued to impress me and the rest of the coaching staff all season long. Taylor is a gifted athlete."
University of Georgia, with a steady performance over the duration of the meet, finished with 414 total points to claim the national title, the seventh in program history. Additionally, Bulldogs head coach Jack Bauerle won his seventh National Women's Coach of the Year award, which was announced after the meet.
Other notable finishers were Stanford University, which placed second with a score of 395, followed by UC Berkeley (358), Texas A&M University (309) and University of Virginia (264).
"What can I say? The competition gets better and better each year," Shrader said. "The times (for the events) continue to decrease every year that I come here."
Some highlights for SDSU this season included the team completing a successful campaign as it finished third of the 10 teams at the 2016 Mountain West Championships in February. And that was after posting an 11-1 regular season dual meet record.
On top of that, Shrader reached a milestone by earning his 200th career victory. His 17-year record now stands at 205-27-1 and his mark as head coach of the Aztecs for nine seasons is 116-15.
"The Lord has blessed me with incredible talent each year," Shrader said. "But this year's team might be the hardest to say goodbye to."
SDSU swimming and diving will momentarily rest up following the national championships and then begin its grueling offseason before the regular season kicks off next August. Not present next season will be current seniors Taylor Johnson, Laura Day, Shannon Herman, Savannah Miller, Natilee Ruiz and Whitney Weisz
"I'm not lying when I say that this senior class is the best this program has ever had," Shrader said. "They've shown what it takes to be a great swimmer and they will have a lasting legacy at San Diego State."