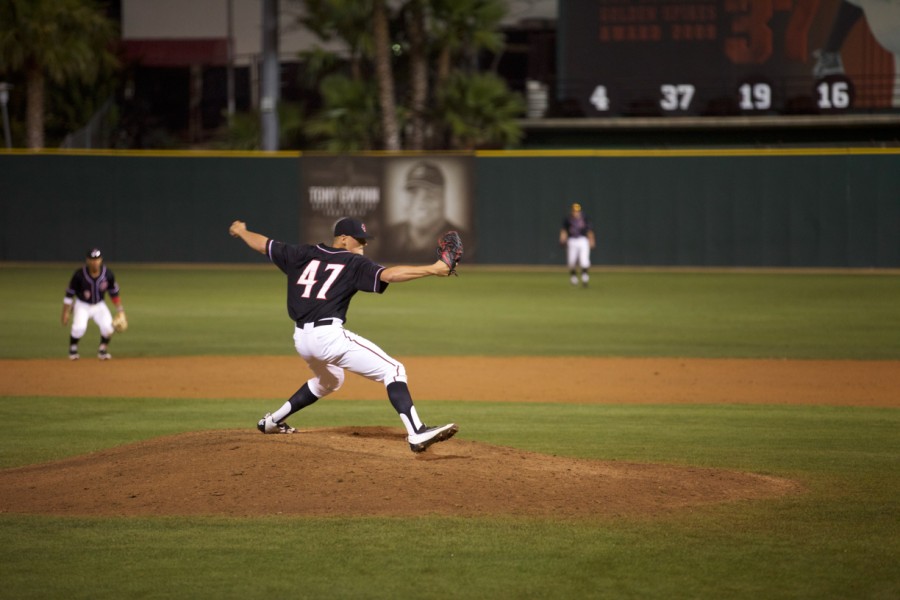 Katelyn Mulcahy
San Diego State baseball lost a much-needed game to University of California, Riverside on Tuesday night, its third loss in a row.
With the score tied 2-2 at the close of the ninth inning, the Highlanders (9-12) and Aztecs (4-14) faced off for an extra inning of play in the cold San Diego air.
Riverside wasted no time putting SDSU away, as sophomore shortstop Colby Schultz knocked a solo homer over the right field wall to take a 3- lead that Riverside would not relinquish.
Head coach Mark Martinez spoke proudly of his team's effort after the loss
"They fought their tails off," Martinez said, "we got good pitching, and we played well. They (Riverside) popped one when it mattered, but what are you gonna do.We just gotta continue to work and continue to fight, but it was good."
The Highlanders landed the first blow in the contest, scoring on a two-out single off the bat of junior right fielder Vince Fernandez, who leads his team with a .376 average.
Riverside made solid contact in two-out situations, going 7-14 with the inning on the line, but only had the first inning run to show for it.
The Aztecs struck back in the third frame, loading the bases with one out after sophomore first baseman Tyler Adkison drew a walk.
Redshirt-senior left fielder tied the game with a single, driving in sophomore right fielder Chase Calabuig.
The rbi was Thornton's tenth of the year, joining the likes of sophomore shortstop Alan Trejo and sophomore third baseman Justin Wylie as the only Aztecs to reach double digits runs batted in. 
Trejo, not to be outdone, scored the next at-bat when sophomore second baseman Andrew Brown grounded out to second base.
The score gave Trejo 13 this season, which leads the Aztecs.
Although the bases were loaded once again, SDSU could not capitalize and left the inning with a 2-1 lead over the Highlanders.
Losing out on opportunities was a theme for both teams in this Tuesday night showdown.
Both teams had countless opportunities, but were each unable to drive in runners on a consistent basis, leaving a combined 22 runners on base in the contest.
SDSU was 2-10 with runners in scoring position.
"When you're winning, " Martinez said, "those balls find gaps, but when you're losing, they end up right at defenders."
Riverside closed the small gap in the fourth inning, tying the game 2-2, where it would stay deadlocked until the final bell sounded for the Aztecs in extra innings.
One bright spot in the loss was an improved SDSU pitching staff.
On the mound for the first pitch for SDSU was junior Adrian Orozco, who gave up six hits and one run in a short 3-inning start.
Senior Brian Heldman, who pitched four innings and gave up two hits, including the game winner homer, took the loss, dropping his record to 0-2 in 2016.
Aztec pitching coach Sam Peraza praised his staff's performance after the game.
"I think theyre taking a step in the right direction," Peraza said. "Everyone is starting to figure out their role on the team, as we're moving pieces around with starters and relievers. But if we continue to pitch like we did today we're gonna be fine."
Hitting streaks live on
Three Aztecs extended notable hitting streaks in the Tuesday night loss.
Alan Trejo, who has been red-hot this season, hit safely in his fourteenth consecutive game.
Not far behind him is freshman designated hitter Jordan Verdon, who extended his streak to nine games with a second inning single.
Justin Wylie, who leads SDSU with 15 rbis this season, is now on a seven-game streak after a fourth inning double.