Queer Student Union president finds himself through the Pride Center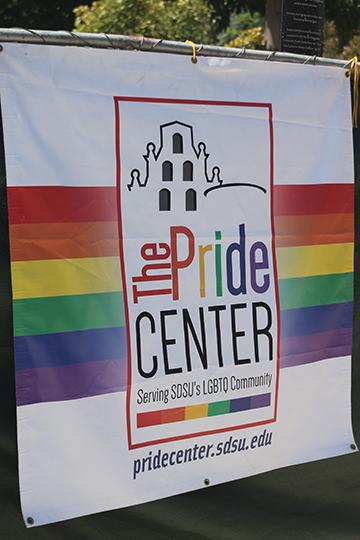 Applied mathematics sophomore Shane James was on San Diego State's campus on Explore SDSU Open House day when he noticed a gay pride flag waving from one of the booths. When he entered the booth for a queer fraternity, he met someone who took him to the Pride Center. Once he entered the Pride Center building, he never wanted to leave.
As president of the Queer Student Union, James has an established presence in the queer community on campus. By delegating tasks and overseeing activities, meetings and events, James attempts to create a safe environment for members and allies.
"The goal of the Queer Student Union is to provide a safe and inclusive space for those who identify as part of the queer community and allies because not always do you get to have those kinds of spaces in your regular life that you gravitate towards," James said.
James hopes his involvement with the Pride Center and QSU will make the queer community more visible to the SDSU community.
"I know that I very much stand out within a crowd, and I know that it might raise a few eyebrows or a few ears, and people might think 'oh I wonder what his life story is,'" James said. "Maybe they'll see me come to the Pride Center all the time, and they'll probably want to come here."
The Pride Center has allowed him to question life and his own being, which, ultimately, helped him label his identity. While scrolling through Instagram one day, James came upon #tomgirl, the opposite of a tomboy, and this finding was a huge revelation for him.
"Finding that hashtag, I was like 'this is me, this is a label for who I am,' and I probably would not have searched up those kinds of things or have been as eager to do an in depth look at myself to find those labels had I not gone to the different events done by the Pride Center," James said.
James had difficulty finding and understanding his identity until the Pride Center gave him the courage and support that allowed him to express himself. It was the first time he gained the courage to wear heels on campus. Although he felt hesitant about it all day, he found safety and comfort at the Pride Center.
"I came here, and I got so many compliments, and I felt so safe that I was like 'this is where I belong, these are the people that I can trust, people I know who won't judge me,'" James said. "I think being around people like that, that work here is part of why I am so confident because a lot of people tell me 'I love your confidence and how you can just be you and not even care."
By finding comfort and acceptance at The Pride Center, James has found his second home on campus.
"If there hadn't been a Pride Center, I wouldn't have been as this happy-go-lucky person I am now," James said.
James' vibrant and cheerful personality fits the profile of the perfect president for QSU.
"I know that he is very talkative, outgoing and friendly, so that always helps when you need someone to talk to," film junior Emmanuel Istom said.
Before coming to SDSU, James dealt with his own inner dialogue dealing with his femininity, but the Pride Center has allowed him to choose his own happiness over the opinions of others.
"I may not be as masculine as other guys or I like to wear heels and very feminine, colorful things, but going to (different events held by The Pride Center) helped me realize who I was," James said. "It's the reason why I am who I am, and why I've allowed myself to be who I am and come to this confident place where I can be me, unapologetically."