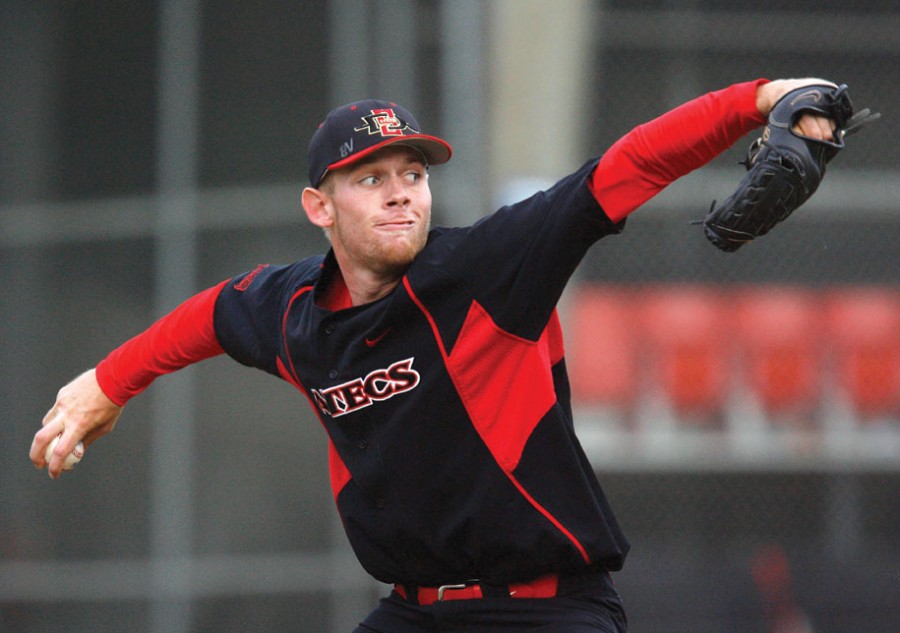 File photo
April 9, 2009
In 2009 the collegiate baseball world revolved around San Diego State and its junior ace, Stephen Strasburg.
It was Strasburg's world and everyone else was simply living in it and the teams he faced could attest to that, especially some Rebels from the desert.
On April 9 he added another gem to his impressive collegiate resume by walloping an overmatched UNLV squad, 15-4, in Las Vegas.
The Rebels, and the 1,000-plus fans in attendance, could only stand in awe of Strasburg's dominance on the mound.
"I'd say my fastball command was pretty good," Strasburg said following the game.
Despite allowing seven hits and walking another, that "pretty good" command led to 13 strikeouts in just six innings of work and only one earned run, improving Strasburg to 7-0 on the season.
While Strasburg may have been sold as the main attraction, it was the SDSU offense that provided the fireworks. Catcher Erik Castro, shortstop Ryan O'Sullivan and third baseman Easton Gust went a combined 8-for-14, scoring eight of the team's season-high 15 runs.
The Aztecs used three unearned runs in the fourth inning to double their score to 6-1, then sent 10 men to the plate in the fifth and scored five runs.
SDSU continued to dominate the Rebels' pitching staff a frame later as they sent 10 men to the plate again and took a 15-1 lead.
As the offense caught fire in the middle innings, it was Strasburg who tempered any flames of an upset, striking out two hitters in each of the first three innings and retiring the side in his final inning of work.
This game was just a snapshot of the junior's historic season, as he would finish his junior campaign with a 13-1 record, a 1.32 ERA and 195 strikeouts, all SDSU single-season records.
He was showered with hardware after the season, being named National Pitcher of the Year by Baseball America and winning the Golden Spikes Award, bestowed to the best amateur baseball player in the country, and the Dick Howser Trophy, awarded to the best collegiate player in the nation.
Strasburg's 2009 campaign would propel him to being selected No. 1 overall in the MLB Draft by the Washington Nationals.