Three apps ease the housing searching process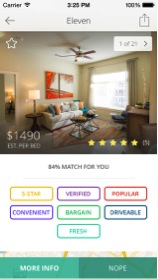 Housing no longer has to be an issue for college students with all of the social media resources available. With thousands of listings on each app, no opportunity will be missed. This makes it easy, fast and safe to find a roommate and apartment hunt without the worry. Here are a few mobile apps that will change the game for any college student when it comes to finding the right roommate and house.
Comfy – College Housing and Apartments for Students
The app is targeted toward college students across nearly 1,754 campuses. San Diego State students can simply click the SDSU icon in the app to search for the most popular SDSU housing in all areas. For example, the app pulls up 51st Street Apartments, an option students can navigate through to find available housing which fits their needs.
Whether a student is looking for one bedroom and one bath or two bedroom and one bath accomodations, Comfy has the key to all of their answers. It also provides reviews from past residents for potential buyers to get the inside scoop.
A unique feature on Comfy is a map of specific locations in the community regarding exercise, food, fun, partying, shopping and studying. It also has another easy way to search for available living spaces by separating SDSU housing into six categories: popular, social, five star, walkable, bargain and luxury. With Comfy, students will get the feel of their future home through the app so they are settled and comfortable from moving day.
RadPad
Search where your new home will be with RadPad, an apartment- and roommate-finder app.
One of Apple's top 10 best apps, RadPad provides college students with thousands of apartment listings for rent in the city. Each listing includes location, price, size, pets, photos and videos of the space and other features like fridge, top-floor unit and parking spot. The app allows users to apply instantly in an easy, safe and social manner.
To find a roommate in the same way, simply create a listing for a pad and RadPad will take it from there. Another interesting feature on the app is that it conveniently allows users to pay rent with a credit or debit card to any landlord. With RadPad, there are no more awkward Craigslist encounters but rather a more social way to find the right apartment and roommate.
Roomi
Searching for the perfect roommate hosts no challenge with the Roomi app. With a profile on Roomi, people can create a listing providing information about roommate preferences, their location, pricing and availability, amenities and rules, photos and an additional description.
Users can also share other lifestyle preferences and living habits such as interests or occupation. Users can also connect safely and easily with others by messaging through the app.
Have fun looking for a new room and the right roommate to share it with while having peace of mind.