Emma Henrikson closes out SDSU women's golf career on top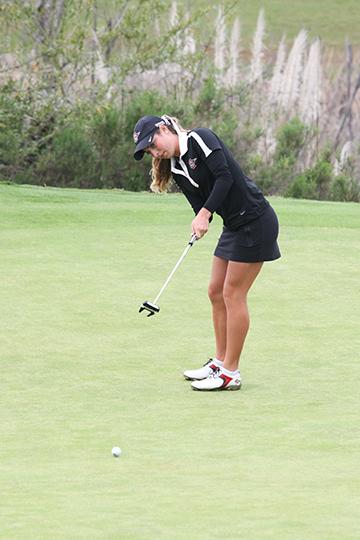 San Diego State senior women's golfer Emma Henrikson became the second women's golfer in school history to take home the Mountain West Women's Golfer of the Year award on Wednesday April 20.
A fitting end to a career with plenty of highlights and accolades.
Henrikson posted six top-10 individual placements this season, recorded two third-place finishes, was the Mountain West Women's Golfer of the Month in September and conference player of the week in early March.
"I feel like I've been working hard for a long time," Henrikson said. "My goal has always been to achieve player of the year status since coming to SDSU. I've never practiced so much coming into this year.
"In my first year or so, (that hard work) didn't pay off, but I stayed patient and focused to eventually be rewarded. I'm truly happy with my accomplishments, but there's still work to do this season."
Born and raised in Malmo, Sweden, Henrikson has grown up around golf.
"My parents and my brothers have played (golf) their entire lives," said Henrikson. "I started to play for real when I was 8 and competed in tournaments when I was 11."
Even though she was playing "for real," golf was not her first passion.
"To be honest, golf wasn't my favorite sport when l was growing up," she said. "I was an active dancer and gymnast as a little girl. Back then golf was just kind of a summer thing. But as years went on, I dreamt about competing and winning in golf. I liked the individual aspect of it and I saw a bright future for myself."
When she was 14 years old, Henrikson received a letter from the Swedish national golf team to participate in tournaments along with other girls her age.
"That motivated me a lot," Henrikson said. "I felt like this was my calling and I soon fell in love with playing the sport."
She also had never lived anywhere besides Sweden before attending college in San Diego.
Luckily for her, she landed in a place where golf can be played year-round, and finding a course to play on is no problem.
"Going to SDSU has certainly been life changing," she said. "Back home, the weather is always a problem and there are easier golf courses. Here it's the opposite: the weather is perfect and there are more difficult courses. You really have to change your tactics."
Many of Henrikson's friends in the golfing ranks began to go pro as she began her college career, and she admitted there were doubts if she would stay at SDSU all four years. In the end, the time she spent with the team has been invaluable toward her progression.
Henrikson isn't the only one to notice her immense improvements.
"I think that Emma is a leader on the golf course and is committed to excellence," head coach Leslie Spalding said. "Her goal is to have the most minutes practiced per year. That's her mentality and it shows an example for the younger players. I want to have them watch her."
"She can be an All-American."
Having a traditional "coach" was something that Henrikson was not used to back in Sweden.  Her time with Spalding, though, has shaped her golfing experience at SDSU.
"Coach Spalding has pushed me as a player and I'm thankful for it," Henrikson said. "My team and I have so much fun on and off the course. I would say my relationship with my coaches and teammates have been on an upward slope."
Henrikson's legacy will surely be remembered at SDSU. She plans to take in these last couple of weeks of the season before carrying out her career plans, which include going back to Sweden in the summer to practice before returning to San Diego to go pro.