Meet the class of 2016: Ryan Donnelly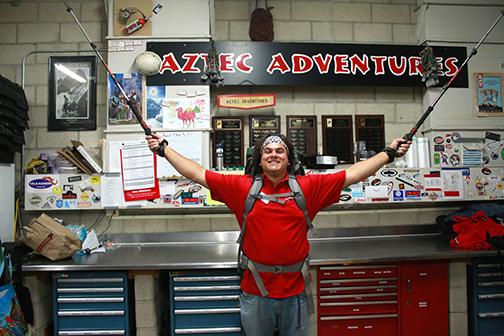 Climbing atop the high ropes challenge course at the Aztec Recreation Center can be a daunting task, and for senior Ryan Donnelly, there was a fear of heights to go along with it.
"Do you want to come down?" asked Sydney Bast, the ground facilitator who was watching over Donnelly. Frozen in place, he initially responded with "yes."
"Remember what you told me – you wanted to beat your fear of heights," Bast said.
This was true, so Donnelly swallowed his fears and proceeded to finish the course. Not only did he conquer the high ropes course, but he has been conquering many obstacles available at the Aztec Recreation Center, and better yet, many obstacles in his life.
The recreation and tourism management major and San Francisco native was in a dark place coming out of high school – struggling with grades and depression. He missed his Writing Placement Assessment exam and wasn't able to enroll in classes, which put him out of school for a short while.
Although he was not attending class, he needed to work for support himself.
But after missing a semester, Donnelly decided something had to be done to change his mindset. He always loved camping when he was younger, and he wanted to get involved with the outdoors again. He returned to school and became involved with the ARC's Aztec Adventures program.
"I really do attribute the outdoors and Aztec Adventures to really changing my mindset and making me a better person," Donnelly said. "Six years ago I literally wasn't supposed to graduate high school but now I'm about to walk across the stage and get a diploma."  
Aztec Adventures is San Diego State's premiere outdoor adventure program and involves outings and team challenges, including high ropes courses and team building. There is also a climbing program that includes the climbing wall, trips and classes.
"It's all about outdoor education and teaching people about outdoor skills," Donnelly said. "It's a really good time."
Donnelly is currently the lead supervisor of the outings portion of Aztec Adventures and is the lead facilitator of the high ropes course. Donnelly also teaches a backpacking class where he helps students learn how to pack a bag, read maps, manage equipment and learn proper backpacking nutrition.
"I love everything I do for Aztec Adventures but backpacking was the first monumental outdoor thing that I've done," Donnelly said. "It is really cool to impart wisdom on other people."
Due to his extensive leadership experience and involvement with the ARC and Aztec Adventures, Donnelly has already secured a job at the San Francisco Recreation and Park Department as the recreational facility assistant starting in the fall.
"Ryan is a good example of the program's opportunities for students to grow," said Mark Zakrzewski, director of Aztec Recreation. "Ryan just constantly finds the humor and is always looking for the positive."
Donnelly has been promoted from an entry-level position to the highest leadership position available in a program, which requires a lot of responsibility, oversight and risk management in the outdoor trips.
Donnelly's attitude, persistence and motivation have rubbed off on the program participants and co-workers as well, Zakrzewski said.
"It's been great to see his development and his improvement and his leadership grow," he said.
Donnelly will start his position with the San Francisco Recreation and Park Department in the fall, where he will be working at various recreation centers in the Bay Area. He also hopes to volunteer and intern for Outward Bound California, a nonprofit organization that provides experience-based outdoor leadership programs.
"I'm just so excited," Donnelly said. "I'm really excited and grateful for these opportunities.