Tasty Tuesday: Poki One N Half builds large portions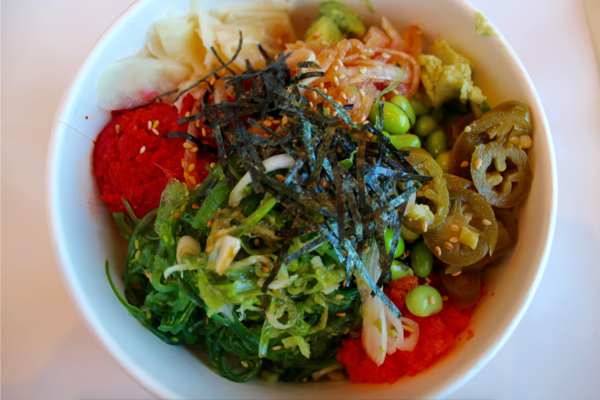 The concept of build-your-own breakfast, lunch or dinner seemed to start with building-your-own sandwiches at Subway. Then, Chipotle's build-your-own burrito, bowl or taco seemed to take the world by storm, or at least the students of San Diego State. Soon after these build-your-own tycoons got started, there was no stopping the trend.
Pizza, pasta, burgers, salads, you name the dish and there is probably a build-your-own restaurant that caters to it.
All around San Diego new restaurants are now trending towards build-your-own cuisine, including a build-your-own poke bar in Kearny Mesa.
Poki One N Half is a fast-casual restaurant that specializes in build-your-own poke bowls. The restaurant is open Monday through Thursday 11 a.m. to 9:30 p.m., Friday and Saturday 11 a.m. to 10 p.m. and on Sunday from 11 a.m. to 9 p.m. Although there is a medium-sized seating area, many customers opt for taking their bowl or burrito to-go.
The restaurant, which began serving customers at its grand opening this past July, has yet to disappoint with its under $10 bowls, outrageously-large portions and premium no-charge add-ons.
Customers can choose a small, regular or large bowl, or a sushi-burrito. Contrary to their different labels, each bowl is exactly the same size, the only difference is the amount of fish in each bowl.
The small bowl comes with two scoops of fish for $8, the regular bowl and the sushi-burrito come with three scoops of fish for $9 and the large bowl comes with five scoops of fish for $11.
Like most build-your-own restaurants, the ordering process is clearly displayed on the wall. The first step to building your one-of-a-kind bowl or sushi-burrito is choosing your base. Clients can choose from white or brown rice, salad, chips or request half and half of any two bases.
"I requested half white rice and half chips during my first visit," said public health senior Danielle Ralleca. "The worker piled a huge amount of white rice along the entire base of the bowl and then proceeded to give me an entire bag of chips on the side."
The second step involves choosing your add-ons. Patrons can choose avocado, imitation crap meat, cucumber, white onion or all of the above. If you want extra of any add-on, or even several add-ons, don't be afraid to ask because at this establishment, avocado is not actually extra.
Step three brings customers to the meat of the burrito, literally. The restaurant offers a wide array of options including salmon, tuna, albacore, yellowtail, shrimp, octopus, scallops and spicy tuna all at the same price. Remember, if you ordered a small bowl choose two types of fish. If you ordered a regular bowl or a sushi-burrito, choose three types of fish. And if you ordered a large bowl, choose five types of fish.
Step four allows clients to choose their sauce, which range from mild to fire on the heat scale. Customers can also ask for spicy mayo or ponzu sauce on the side at the register, again for no extra cost.
The final step in the build-your own bowl journey is choosing your toppings and the sky's the limit. Choose from seaweed salad, edamame, masago, jalapeño, green onion, sesame seeds, ginger flakes, ginger, wasabi, sesame oil or once again, all of the above. And if you really want more of one ingredient, don't forget to ask for more!
"I ordered a small bowl and I honestly couldn't believe how heavy is was," Ralleca said. "The entire bowl was made my mouth water and I was upset I couldn't finish it within one sitting. I ended up taking it home and finishing it about three hours later because I was ridiculously full."
By the way, if you're still somehow hungry, Poki One N Half also offers macaron ice cream sandwiches for $3.50. Flavors include: strawberry, green tea, vanilla, mango and cappuccino.
If you can't wait to build-your-own poke bowl, but Kearny Mesa is a bit out of your wheelhouse distance-wise, don't worry. Two additional locations are said to open in North Park and Claremont in the near future.