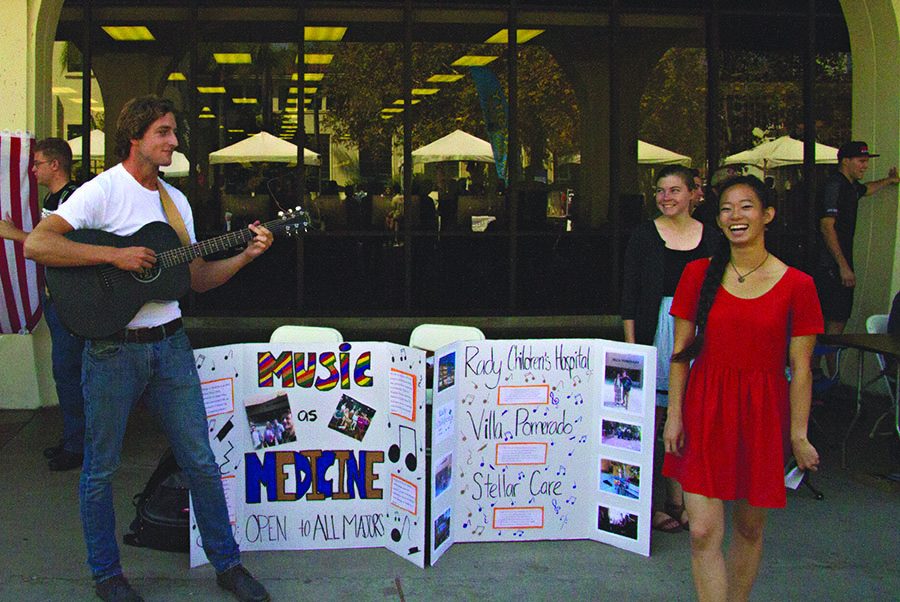 Students in Music is Medicine are using their musical talents to impact patients' lives in nursing homes, children's hospitals and dementia care centers.
This is the second active semester for Music is Medicine at San Diego State.
Club members dedicate part of their weekend to play instruments and sing for patients who spend most of their time in facilities.
"When we do these kinds of performances, the people are just so thankful we are there," vice president of the club Marshall Kanute said. "It's really fun to be a part of, we're trying to create a community within San Diego State."
President of Music is Medicine, Kelly Dinh, said the club is open to all majors, but knowing how to play an instrument or being able to sing is a requirement.
"Having it open to every major really brings together a bunch of musicians," Dinh said. "There are so many talented people who are not music majors. In a way, we want to bring those communities together."
Dinh said she was interning at a hospital and playing music for patients and elders in retirement homes before starting the club.
Kanute said he approached Dinh and asked how he could do the same.  It was because of this that Dinh suggested starting Music is Medicine.
"There's this patient that usually doesn't talk, but when I played for her, she just started clapping," Dinh said. "Seeing that change in someone's behavior, even a smile or a clap, really meant so much to me. It made me realize I could impact other people through music."
Kanute said when the patients see them with their guitars and hear they are back, they start wheeling themselves out, anxious to hear them.
"You start to get to know them, and that just makes it even better," Kanute said.  "Someone might not be able to dance, but they'll be on their chair going all over the place, and they are loving it."
Sophomore jazz studies major Andrew Snyder, said he originally joined Music is Medicine for performance practice. However, as he spent more time in the group, his motivations changed.
"As I was doing it more and more, I enjoyed the fact you get to play for people who really need it in a very healing and spiritual way," he said. "Getting to see other people be touched by what you do is very rewarding."
Snyder said there was a time he was playing at a dementia care center when a man came up to him with tears in his eyes and a big smile on his face. The man said the music brought him back to being at a jazz festival.
"He was saying how us playing music brought back really strong, vivid memories that brought him back to a good place, and he thanked us for that," Snyder said. "That was really touching."
The music also helps the workers at facilities.
Dinh said she was playing in the lobby of a hospital when a worker came up to her and told her he was really anxious because it was his first day and her music helped ease his nerves.
Club meetings are held every other week and performances start in October, but students can join throughout the year.
Dinh said music majors can benefit from performance experience.
"This is how I got over my performance anxiety," Dinh said. "Playing in front of people and having the most appreciative crowd calmed my nerves. If I mess up, they don't care. They just want to listen to you."
"We're still students," Dinh said. "We're not doctors yet, but I feel like through this club, it's a step toward helping someone at our level."