Tasty Tuesday: Parkhouse Eatery provides the contentment of home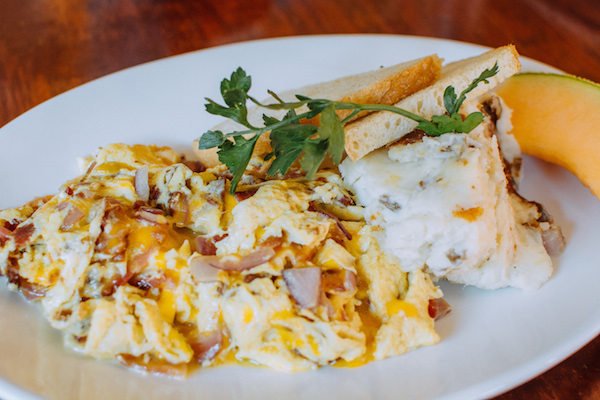 Whenever San Diego State students miss the contentment of home and their parents' cooking, they need to look no further than Parkhouse Eatery.
Located in University Heights, Parkhouse Eatery opened in 1996 and is currently celebrating its 2oth anniversary. Customers have kept coming back throughout the years due to the comfort and familiarity of the food and atmosphere, stemming from the restaurant being located in an actual house built in 1931.
Owner Tony Loiacono describes the menu as American ethnic comfort food.
"It's American based food with flavors from all over the globe," he said.
Parkhouse Eatery has separate menus for brunch and dinner, serving brunch from 8 a.m. to 2 p.m. Mondays through Thursdays and 8 a.m. to 2:30 p.m. on Fridays through Sundays, and serving dinner from 5 p.m. to 9:30 p.m. Sundays through Thursdays and 5 p.m. to 10 p.m. Fridays and Saturdays.
The busiest hours are during brunch, with the most popular item being the Parkhouse Benedict ($15.25). The dish contains two poached eggs with apple-smoked bacon and tomatoes on focaccia bread, topped with an avocado hollandaise sauce and served with a side of house-mashed potatoes.
Additional brunch options are the assortment of Tres Egg Scrambles, with 10 different combinations of ingredients to choose from, all served with a side of mashed or roasted potatoes and white toast.
"I had the Tres Egg Scramble with bacon, tomatoes and cheddar," said television, film and new media production sophomore Michael Abshear. "A lot of times scrambled eggs can be dry and crunchy but (Parkhouse Eatery's) were moist and had a good texture."
One of the menu's signature burgers, the Real Thang Beef Burger ($13.95), comes with classic burger toppings cheddar cheese, tomatoes, pickles, lettuce, onion and mayo on a brioche bun. However, customers can request a 'dirty' version of the dish for an additional $3.50, adding bacon and a fried egg to the burger. The 'dirty' burger adds the unique flair to an American staple that Parkhouse Eatery prides itself on.
Guests should come to Parkhouse Eatery with an empty stomach, as the promise of comfort food goes hand in hand with generous portions.
"It was extremely filling," said international security and conflict resolution sophomore Brandon Battaglia. "I couldn't finish (my Parkhouse Club Sandwich). It was very large and very heavy."
Parkhouse Eatery also has a coffee bar, complete with a variety of drink options.
"My mocha tasted like it was from a coffeehouse, not just a coffee machine," Abshear said.
The charming, 'grandma's house' atmosphere perfectly complements the restaurant's theme of casual and comfortable dining. It's furnished with wooden tables and chairs, decorated with local artwork and the friendly wait staff converses with customers the way they would an old friend.
A major draw for Parkhouse Eatery is its option of al fresco dining, with it having the largest patio in University Heights.
"It's very nice outside, with the plants and the weather," Abshear said. "It's a very relaxing atmosphere."
Parkhouse Eatery recently obtained a liquor license and hopes to create a cocktail menu in the near future.