The Julie Ruin delivers high-energy experiences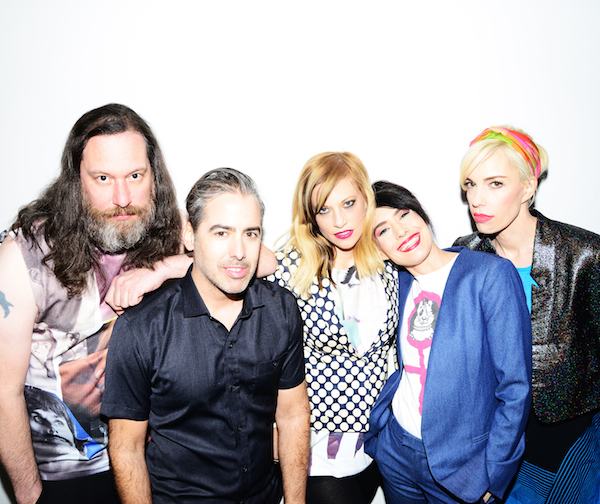 New York punk band, The Julie Ruin, is playing a show Oct. 16th at the Music Box in promotion of its latest album, "Hit Reset."
The Julie Ruin is headed by legendary feminist activist and pioneer of the Riot Grrrl movement, Kathleen Hanna. Bassist Kathie Wilcox, drummer Carmine Coveli, guitarist Sara Landeau and keyboardist Kenny Mellman deliver high-energy music experiences filled with personal and political angst together with Hanna.
After its first record, "Run Fast," the band took a more efficient approach on "Hit Reset," experimenting with new sounds and doing more recordings to create a more complete album.
"We all wrote the songs (together) in practice rooms, so it felt more organic than the first record, where we would maybe record a keyboard at (Hanna's) house or go to the studio once and not go back for another month or two," Mellman said. "So it was nice because we would write all the songs together and it was a nice process because it seemed like we produced it very quickly."
The making of "Hit Reset" was the result of vigorous work ethic and a lot of fun. Hanna brings energy in an organic fashion with her personal experiences that seem to resonate with everyone in the band when it comes to writing a new song.
"For this record most of the songs were done," Mellman said. "It was kind of true for the first record to where Kathleen was basically speaking nonsense words and sounds and eventually she would come up with a lyric and we would be like 'oh, this was what the song was about.'"
The record also gives fans a glimpse into Hanna's past life while tackling social issues such as gender inequality and abuse.
"Hit Reset" is a battle cry filled with intense textures and emotions that will make you want to head bang and dance, all the while connecting you to the band. The inspiration for this album comes from within the group, stemming from Hanna's work.
"If we are on stage, our inspiration is the pop political scene that is going on right now," Mellman said. "And Kathleen's history, it's always in the room because she carries that through her life, so we can't help but be influenced by feminism and what women are doing now in music."
Fans of The Julie Ruin feel the same force that establishes the essence of "Hit Reset."
For people who have not seen The Julie Ruin live before and is planning on seeing them in San Diego, expect a high-energy show with a lot of fun.
"On stage, (Hanna) and I always have fun chit chatting with each other, and we just play kickass music, so it's just a good time," Mellman said.
The Julie Ruin will be on tour until winter of 2017. After that, Mellman said the band isn't sure what's in store next.
"We are just going to see what happens and go with the flow," Mellman said.